Details

Category: Arts & Culture
Published: Thursday, 23 June 2022 15:15
Written by Nita Teoh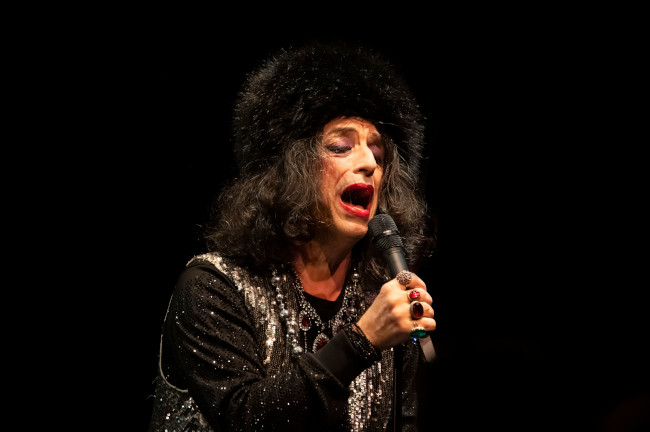 Up, Close and Personal - Paul Capsis, Perth International Cabaret Festival 2022
Photo Credit: Vanessa Cooper Photographie

Sitting around cosy tables on the boards of His Majesty's with a handy pop up bar behind us, my better half and I eagerly waited for the show to begin,  and our eyes were drawn upwards to the domed ceiling admiring the pretty decor of this over 100 year historical building.

Paul Capsis - the "one and only" cabaret queen returns to Perth after 10 years with two special performances at the Perth International Cabaret Festival.

Stepping on stage dressed to the hilt with his foxy purple fur number – glittering sequenced silvery pants and all – we knew we were in for a special night.

With renditions spanning a myriad of famous music artists of the likes of Janice Joplin, the Beatles, Nina Simone, Lou Reed - Capsis's versatility and vibrancy is a unique one with his strong soulful blues voice which is second to none.

What stood out for myself in being lucky enough to enjoy this memorable evening and special performance is that Capsis gives it his all on stage – he is a musical dynamo! The songs that he sings are filled with heart and soul – and every inch of his body (adorned with nice glittery togs by the way!) – oozes  this beautiful magical feeling – to live life each day well as life is short, and to grab love by the horns when it comes along since love is so special.

His talent for story telling brought out many laughs amongst the audience along with a visit by a special audience member – one of his relatives from his Greek / Maltese heritage who had come to attend his performance.

It was a first of a kind and a wonderful experience to sit on stage with the theatre itself as a backdrop - the sound and lighting crew, and the 3 member band did an amazing job to accompany Paul Capsis.

Several encores later and two standing ovations – the 50 minutes plus flew by very quickly.

If you are looking for a fun night out at His Maj to enjoy a powerful performance by a one of a kind cabaret queen – Paul Capsis is the choice. He has a large fan base accumulated over his many decades of performance and this is no surprise – given his ability to completely enthral the audience with his on stage energy and pizzazz along with his amazing voice and humorous stories.

The Cabaret Festival is in its 2nd year of running and judging by its popularity by the audience will continue as a premier event on Perth's festival event calendar.

Up Close and Personal - Paul Capsis is on again tonight for his last show at His Majesty's Theatre as part of the Perth International Cabaret Festival.
If you enjoyed this article, please share it!


To find out about the hottest events in Perth, follow us at @PerthWalkabout