Details

Category: Arts & Culture
Published: Wednesday, 08 February 2012 10:19
Written by Melissa Luyke
This is a guest post by Melissa Luyke, Hyogo Prefectural Government Cultural Centre.

It may not seem likely from the outside, but stepping inside the ground floor of 20 Kalinda Drive, the site of the former City Beach High School, visitors are immediately whisked away to a little piece of Japan. With tatami mats, shoji screens, Japanese dolls, and sake barrels on view, it is easy to believe that the Hyogo Prefectural Government Cultural Centre office is actually located somewhere in downtown Kobe rather than coastal Perth.
Established in 1992 to celebrate the 10th Anniversary of the thriving Sister-State relationship between Hyogo Prefecture and Western Australia, the Cultural Centre is fully funded by Hyogo Prefectural Government in an aim to promote awareness of the Sister State relationship, act as a bridge of communication between Hyogo and WA, and support Japanese language and culture education in WA.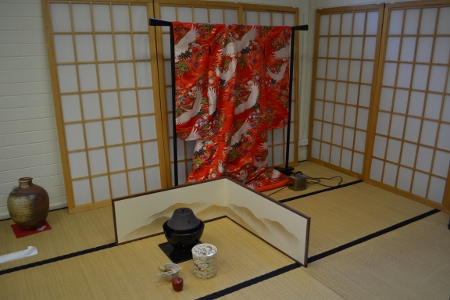 Hyogo Cultural Centre brings a little of Japan to WA
Photo Credit: Hyogo Prefectural Government Cultural Centre


As the very first tenant of the prestigious QV.1 building in central Perth, the Centre enjoyed almost 17 years with spectacular views over the Swan River until rising rent prices forced the relocation to City Beach in 2009. Despite the dramatic change in surroundings the Centre has settled comfortably in the new venue and is now part of what could be considered a Japanese hub incorporating the Japanese School in Perth and the Japanese Association.
Hyogo Cultural Centre has an open door policy to the public welcoming everyone to visit during business hours, Tuesday to Saturday 9am to 5pm, and relax in the ambient atmosphere while browsing through the wealth of resources. Whether your interest lies in Bonsai or Buddha, Haiku or Honshuu, Manga or Murasaki, Cooking or Karate, the library has something to suit every taste.
Memberships are also available for those who would like to borrow the resources and receive regular information about the Centre's events via email or post. And for those looking for something a little more social, on Saturday afternoons the Centre becomes a hive of activity as members and their friends get together to practice their language skills during the ever popular Chatterbox.
By far one of the biggest and most successful programmes run in the Centre is the Japanese language immersion workshops for students, which are coordinated by the Department of Education's Japanese Language Advisor, Ms. Yuko Fujimitsu, and presented by professional actor and language educator from Sydney, Shingo Usami, together with a team of local professionals. By utilizing drama as a tool for learning, the Japanese immersion workshops demonstrate to both students and their teachers alike that learning can be fun and purposeful.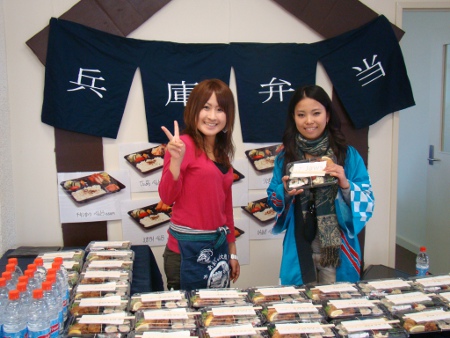 Kobe University interns Chizuru and Shoko preparing to "sell" obento to the students
during one of the Japanese language immersion workshops
Photo Credit: Hyogo Prefectural Government Cultural Centre

The Centre invites participants to come and spend the day in Japan by providing a Japanese environment, Japanese food, and a huge variety of language learning activities designed to inspire and motivate learning. These quarterly workshops have proven so innovative and successful that educational organisations all over Australia are now seeking more information about the programme.
Following in the footsteps of the 30th Anniversary of the Hyogo-WA Sister State relationship in 2011, 2012 will see Hyogo Cultural Centre celebrate its own milestone with 20 years of activity under its belt. Some of the largest and most memorable events have included participation in the Perth Royal Show Japan Pavilion, the creation of the Japanese Garden at Perth Zoo, participation in large scale Japan Festivals, Children's Day events, and the visit of Hyogo's Piccolo Theatre group to name a few. This year, in honour of its 20th Birthday, the Centre is planning to release an educational resource pack, including a DVD showcasing the best that Hyogo Prefecture has to offer. Members will then be invited to join the inaugural tour of Hyogo and the Kansai region to see for their own eyes why Hyogo Prefecture is often referred to as a Japan in miniature.
For more information of the Centre's activities and membership please visit the website at www.hyogo.com.au
Melissa Luyke was born in Perth and lived in Hyogo Prefecture whilst on the JET programme. She has been the Deputy Director of Hyogo Prefectural Government Cultural Centre for almost 15 years.

For more articles, please see the Related Articles section below.