Details

Category: Arts & Culture
Published: Wednesday, 30 July 2014 08:52
Written by Greg Letts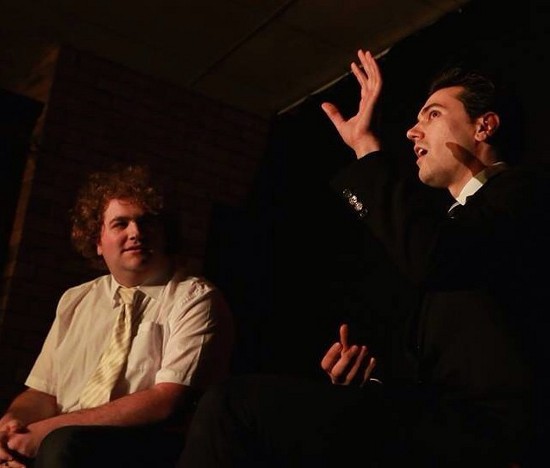 While my partner and I have seen our fair share of plays and performances in the last few years, there has been one area in which we haven't had much experience - that of improvisational theatre. Our last contact with improv theatre was a couple of episodes of Theatresports on the ABC from way back in the late 80's or early 90's.
So we weren't exactly sure what to expect when arriving at the Bedford RSL Club to watch Improv Club conducted by Just Improvise. How entertaining are actors when they don't have a script to fall back on? Were we in for a night of painful pauses and melodramatic overacting as the performers attempted to recreate Shakespeare or David Williamson on the fly?
As it turned out, the performers at Improv Club were neither overwraught or stuck for words. Quite the opposite in fact - for two hours we were entertained by scenes springing fresh from the minds of the actors and actresses, without the filtering of rewrites and rehearsals. It was fast, frenetic, sometimes funny, sometimes furious, but damn good. Watching an actor throw an idea out there and seeing his co-performer pick it up and run with it is something to behold.
We started with Divergent Minds, and all female troupe who took audience suggestions for the main character, a character name, and a hobby, and then hit the boards. I had expected a few minutes break to give the performers a chance to brainstorm some ideas, but no such thing - it was all systems go right away. With one main character staying on stage and the other cast members rotating on and off, the audience was whisked from scene to scene throughout the heroine's life. As you can imagine, some scenes worked a little better than others, but it was never boring and there were a suprising number of laugh out loud moments considering everything was being made up as they went along.
Next up was the guy's turn, with Movie Film featuring Manfred Yon and Alex Circosta. After receiving a line of song lyrics from the audience, the lads went to work with a will, creating a spontaneous storyline of movie reviews, Hitchcock classics and dance numbers that had the crowd cheering for more. An amazing effort, seeing as both performers had to be on stage at all times, with no chance to take a quick break to plan ahead. But with an obvious rapport and a willingness to back up each others ideas, Movie Film managed to weave together a coherent, over the top story that was a lot of fun to watch.
Phew! Time for the intermission and a chance to calm down, before Triptych's Glenn Hall and Esther Longhurst stepped on stage to conclude the night. With fellow cast member Chris Bedding struck down by flu and forced to stay on the sidelines, accompanying on piano and vocals, Glenn and Esther were really forced to improvise under pressure.
Never fear. It was immediately obvious that we were watching a couple of pros on top of their game. Slipping effortlessly from scene to scene and owning the stage, Glenn and Esther tied together a number of story threads, along with plenty of material provided by previous performers and the audience. The "Ode to a Shark" scene was probably my highlight of the night, with both performers riffing on a previous interaction with a member of the audience in a way that was both playful and devastating at the same time!
Just Improvise will be holding another Improv Club on Friday 29 August at 8pm. If you are a play lover who'd like to see something a little different (or possibly a lot different!) go and check it out - I don't know what you'll be in store for but I can guarantee you'll be entertained along the way.
If you enjoyed this article, please share it!
Greg Letts is a ppc marketer, ping pong player, guide dog puppy raiser by day, and an entertainment reviewer by night. To get the insider's perspective on upcoming events at Perth, follow us @PerthWalkabout