Details

Category: Arts & Culture
Published: Thursday, 25 January 2018 09:31
Written by Nita Teoh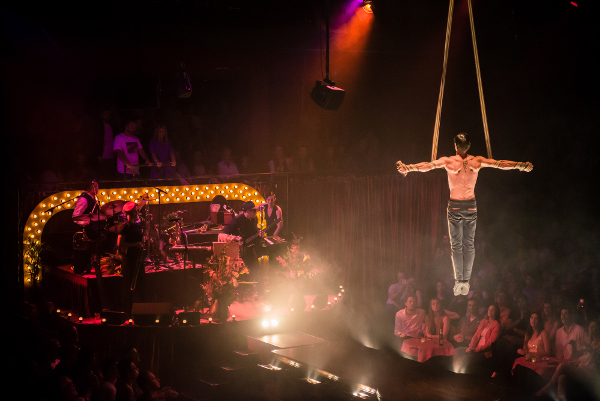 Club Swizzle, Photo Credit: Jeffrey Feng Photography

It's going to be hot at Fringe World Perth, as the heat notches up even further with the opening night of Club Swizzle just round the corner.
Brought to Perth as part of the Fringe Festival, fans of the sell out show La Soiree will be in for a treat as the brand new show is seen by audiences here for the very first time.
Creative Producer Brett Haylock, describes how Club Swizzle is remarkably different from its predecessor:
"I've taken the spirit of La Soiree and put it in a late night bar – I've put it in a familiar place where the characters come alive.

It's a show which happens in a great theatrical manner."
The concept of Club Swizzle has been brewing for a while and we'll no doubt be seeing more concocting going on as a steady flow of cocktails are served up to heady patrons over the cabaret season.
It's been more than just about cocktails though, as behind the scenes, there has been a clever transformation of an old, disused building (previously home to the Peters ice cream factory and also the Kailis fish markets) into a deliciously fun, late night happening cabaret spot in Perth.
Highlights of this year's show include Bursleque performer Laurie Hagen who starred in La Soiree a few years ago as the sexy aerialist. Hailing from Belgium, the cheeky and seductively sexy performer is the best in the business, having won the London Cabaret Award for Best Bursleque act in 2013.
Her first time to Perth and very excited to be in our beautiful city, she shared with us her interesting story on how she first got into the art form of Burlesque:
"I sort of fell into the cabaret scene and I was performing in the play about Christine Keeler at the time in London and I was playing a show girl. This gave me the insight into how creative this art form is. I love how much humour is involved."
"I was encouraged to create my own acts and to experiment with Burlesque – balloon pop, the fan dance, the reverse strip were some of the iconic things."
Another performer of Club Swizzle to watch is Dandy Wellington from Harlem, New York City who dazzles with his style and charm on stage with his swanky moves.
And last but not least, the fit and muscular Swizzle Boys form the backbone of the show with their amazingly agile and hot acrobatic moves.
It's definitely time for a cocktail or two at Club Swizzle, and as they say in show biz,…the show must go on.
If you enjoyed this article, please share it!
To find out about the hottest events around Perth, follow us at @PerthWalkabout