Details

Category: Arts & Culture
Published: Wednesday, 01 March 2017 12:22
Written by Lee-Ann Khoh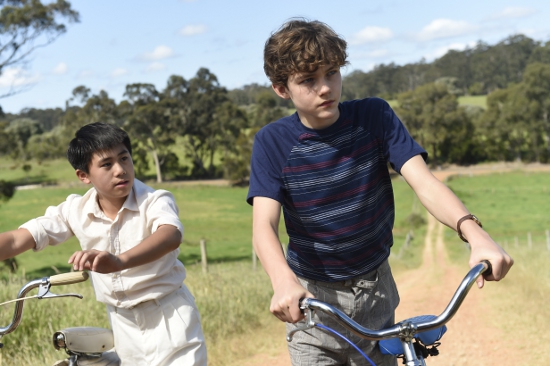 Jeffrey Lu (Kevin Long) and Charlie Bucktin (Levi Miller), Jasper Jones


The film adaptation of Jasper Jones had a lot to live up to. Craig Silvey's award-winning novel is a much-loved modern classic that has been described as "an Australian To Kill a Mockingbird". I went into the preview screening of the film with some apprehension about how it would stack up against the book, but in the end, I needn't have worried.
Set in Corrigan, a fictional WA town in the 1960s, Jasper Jones is the coming-of-age story of Charlie Bucktin (Levi Miller). Charlie's quiet life changes forever when Jasper Jones (Aaron McGrath) knocks on his bedroom window in the middle of the night, begging for help. Jasper, whose late mother was Aboriginal, is an outcast in Corrigan, and has identified Charlie as a fellow outsider. Charlie follows Jasper into the woods and is confronted by the dead body of Jasper's girlfriend Laura Wishart, hanging from a tree in Jasper's secret glade. Charlie wants to call the police, but Jasper knows he will be presumed guilty. He convinces Charlie they must hide Laura's body and find her killer themselves.
Meanwhile, Charlie develops an agonising crush on Laura's younger sister Eliza (Angourie Rice) and comes to understand what Jasper already knows – that Corrigan is a town divided by prejudice. Charlie's best friend Jeffrey Lu (Kevin Long) is a Vietnamese boy whose family endures racist attacks from their white neighbours as casualties from the Vietnam War mount. Over the course of the film, Charlie grows from an awkward, innocent bookworm to a more stoic, brave young man.
The film stars established actors such as Toni Collette and Hugo Weaving alongside a wealth of young up-and-comers. Miller's performance as Charlie is a standout, while Collette's portrayal of his disillusioned mother Ruth adds greater depth and empathy to the character than the original novel.
Jasper Jones is a heartbreaking movie that stays true to the essence of the book, but is a powerful, emotive film in its own right. While there are some differences between the novel and the movie, fans of the former can be assured that its film counterpart does it justice.
Jasper Jones opens in cinemas on March 2.
If you enjoyed this article, please share it!
To find out about the hottest events around Perth, follow us at @PerthWalkabout