Details

Category: Arts & Culture
Published: Friday, 17 August 2012 10:46
Written by Nita Teoh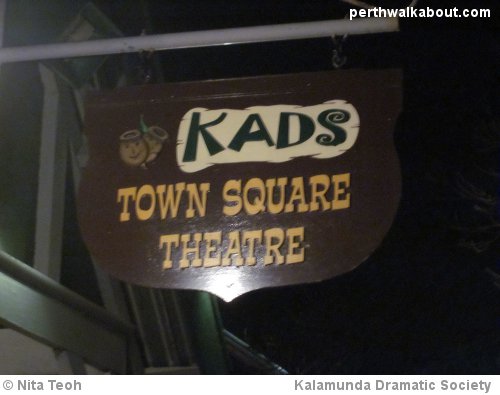 Have you ever watched a local theatre show in Perth? If you haven't, you are missing out big time. Perhaps you spotted our recent post about theatre sports in Perth that was recently published on Perth Walkabout.

I am happy to report that local theatre is alive and well in Perth. As a keen theatre goer over the years, my better half and I have visited many a quaint and old historic theatre in Perth. A few long running theatre groups such as The Old Mill Theatre and the Harbour theatre at Fremantle come to mind.

On this night, we were looking forward to our subscription tickets for KADS (the Kalamunda Amateur Dramatic Society), which is the local theatre group that runs from their tiny theatre just off the main strip of the Kalamunda town area. It's a regular ritual for locals and those coming from afar to visit KADS for a pre-dinner tipple and to be entertained with a bit of drama and laughs for the night.

When visiting KADs, you won't miss the building, which I understand was a church in its previous life. It's now a compact theatre with enough room to seat 60 people in cosy comfort. Check out the local artistic work on the top awning of the stage and you will spot a few dancing gum nuts. Well, they look they are dancing to me, but perhaps it's the tipple of sherry that has gone to my head!

We watched Private Lives, a Noel Coward drama about two couples who meet each other's ex's on their honeymoon. What a lovely coincidence! There are funny moments and heated fiery exchanges, as the actors and actresses execute their lines to precision. The audience is gripped by the stormy dialogue, and at other times, a loud roar of laughter erupts in the small cosy theatre that is KADS.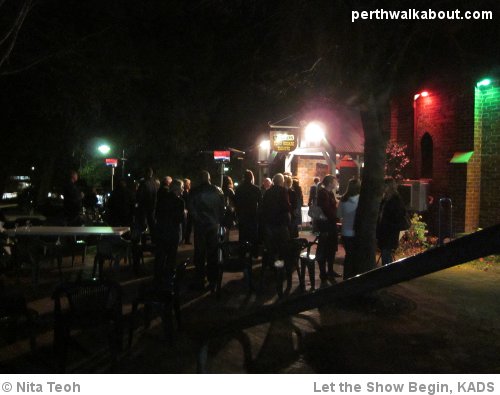 Performances start at 8pm, and it's best to visit on a Saturday night (booking well in advance is recommended - for good reason!), as intermission time is when fish and chips are delivered by the local fish and chips shop for theatre patrons. Cries of delight and greed(!), and the anticipation of a nice serve of chips and fish never disappoints. It's probably one of the best fish and chips that I've tasted in Perth. Crispy thin batter on the fish, and crunchy chips, just the way I like it, with a squeeze of lemon, and a light sprinkle of vinegar (not too much to soggy up the chips).

As the show started off a fraction later than the usual time of 8pm on this night, a patron called out from the audience, "Don't forget to let the fish and chips shop know, otherwise our chips will be cold!" It received much laughter and nodding of heads, and it's typical of the friendly banter that ensues in the friendly crowd at KADS.

At intermission time, the hungry hordes take to the outdoors area to devour their fish and chips and have a yarn. KADS have completed renovations over the years, and patrons can now enjoy the warmth of the bright, shiny new outdoor heaters during winter. Then it's back inside to watch the build up to the finale of the show.

To sum up, theatre at KADS is a friendly atmosphere of the locals putting on a show for the locals. A lot of hard work goes into each of the productions, and KADS is a gem of a theatre in Perth. We look forward to attending our plays (there are usually four plays each year), and thanks to KADS for putting on such great shows over the years.

What's On
To view what's on, visit the Kads Theatre website.

Where to Buy Tickets
Tickets for shows can be purchased between 1 pm and 4 pm at O'Hara's Pharmacy on 39 Haynes Street, Kalamunda one month prior to opening night. Or you can call O'Hara's Pharmacy on 993 1412.
How to get There
KADS Town Square Theatre is located at 6 Central Road Kalamunda between the Centro Shopping Centre and the Post Office on Barber Street. Parking is available off Barber Street.

For more Related Articles, please scroll to the bottom of this page.