Details

Category: Arts & Culture
Published: Friday, 30 January 2015 11:22
Written by Nita Teoh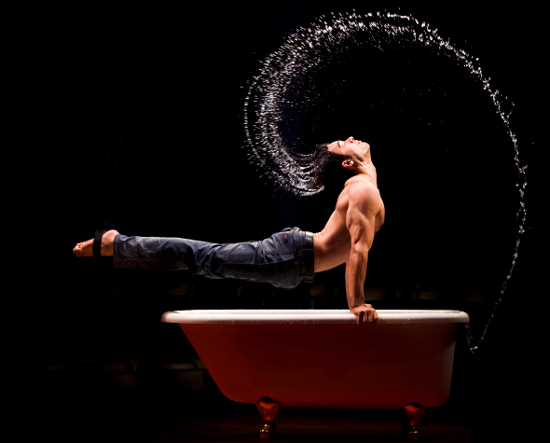 La Soiree, Fringe World Perth
Photo Credit: Bath Boy by Simon-Pierre Gingras

Sitting underneath the Palais des Glaces Spiegeltent at The Pleasure Gardens, I looked up at the stained glass windows of this beautiful structure from yester year. The tent billowed gently in the breeze of the air conditioning – keeping us cool on another warm Perth night. Punters gathered at ringside chatting and drinking merrily, as we waited for the magic of La Soirée to unfold at Perth Fringe World.
And unfold it did.
We were confronted with the amazing, the funny, the risqué, and the unbelievable.
Act after act.
Performer after performer.
Death defying feats for ordinary folks.
Contortionist man Captain Frodo had me in fits of laughter as tears streamed down my face – his act got more and more ridiculous as he manipulated himself through his chosen objects. I was awe struck by his uniqueness.
Oh my god…..how can he do that?
No he possibly couldn't that…….that's not humanly possible.
Bath Boy left me gasping (and slightly wet in a good way)…his muscles taut and perfect as he executed his moves with acrobatic precision. It's not a sight that you will forget easily.

The English gents Dennis Lock and Hamish McCann... their transition from bowler hats and formalities to bare more than expected.
The Swedish ping pong duo David and Fofo had me in fits of laughter….how can you possibly do that?
And red handkerchief lady Ursula Martinez still has me puzzled. How did she do it?

It's is difficult to choose between favourite acts….each one has contributed to making La Soirée known around the world. These famous performers have come together from many countries to make it the special family that is La Soirée.
They weren't kidding when they said "Come watch La Soirée and leave your troubles behind."
Swept into a world of mayhem, mischief, and sexiness, two hours later we were on our feet giving a standing ovation to the performers, before reluctantly departing the big top and merging into the late night Perth Fringe Festival crowd.
We are lucky to have La Soirée come to Perth as part of Fringe World Perth. It's their first visit to WA as part of a world tour, and judging from their enthusiastic reception on opening night, it won't be their last.
If you enjoyed this article, please share it!

Nita Teoh follows her feet to find out the latest happenings in Perth.
To get the insider's perspective on upcoming events at Perth, follow us @PerthWalkabout