Details

Category: Arts & Culture
Published: Thursday, 16 February 2017 11:54
Written by Nita Teoh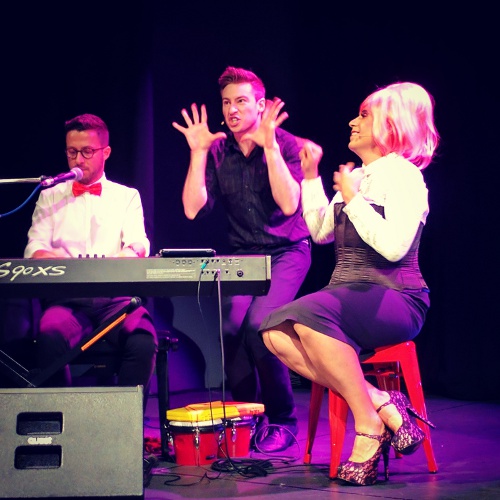 Matthew Ogle, Matthew Mitcham, Spanky

After the success of his cabaret show Twists and Turns, and with a published biography of the same name under his belt, Matthew Mitcham is in Perth to perform at the Fringe World Festival.
In his new "Under the Covers" production he delights and entertains audiences with his funny anecdotes and observations on life as a professional athlete who achieved fame and glory as the no 1 diving champion in the world and who brought home gold for Australia at the 2008 Olympics held in Beijing, before retiring just 6 months before the 2016 Rio Olympics.
Getting there involved a gruelling regime, and Matthew chronicles some of his life lessons in his cabaret performance.
Accompanied by the talented Matthew Ogle on the keyboard, and famous cabaret legend Spanky up to his usual tricks whilst playing the guiding role as Matthew's therapist – the trio's adventures on stage make for a very entertaining night out.
Along the way, Matthew sings and strums on his ukulele – he exudes a very relaxed and cheeky stage presence, and it was easy for the audience to be drawn into his theatrics and playful manner, as he delivered his humorous perspectives on life.
Underneath the lightness and fluff of his funnies, Matthew's cabaret performance also raised some topical themes about drugs, substance abuse, and mental health. Being someone who has experienced depression and self-harm, Matthew speaks from the heart with brutal frankness about his dive into the entertainment industry, subsequent bellyflop at Rio, and eventual new direction – he is now an inspiring role model assisting ex-athletes facing similar challenges in life – as well as cabaret diva of course!
Whether it is in the pool or on the entertainment stage, Matthew is a super star who delivers.
Funny and candid with a big dose of mischief and naughtiness thrown in for good measure, we look forward to his next instalment on the cabaret stage.
Under the Covers by Matthew Mitcham is on at the Perth Town Hall corner of Hay and Barrack Street, as part of the Fringe World Festival in Perth till 19 February.
If you enjoyed this article, please share it!

To find out about the hottest events around Perth, follow us at @PerthWalkabout