Details

Category: Arts & Culture
Published: Wednesday, 11 November 2015 11:32
Written by Greg Letts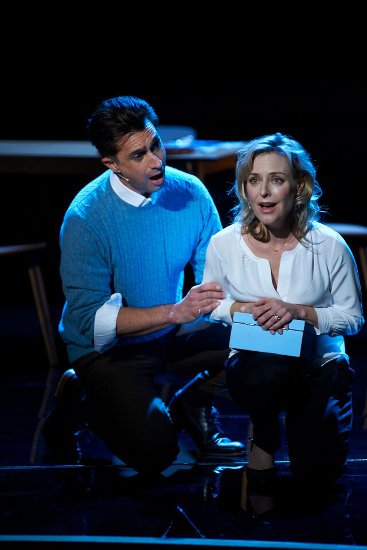 Brendan Hanson (as Dan Goodman) & Rachael Beck (as Diana Goodman) in Next to Normal
Photo Credit: Gary Marsh Photography & Black Swan State Theatre Company
A musical about bipolar disorder sounds like a premise for a wacky, Marx brothers comedy or an over-wrought, depressing tragedy. And while Next to Normal by Black Swan State Theatre Company certainly does have its share of frenzied highs and gut-wrenching lows, it remains firmly grounded in the reality of a family dealing with mental illness and its repercussions.
Tom Kitt's score and Brian Yorkey's lyrics are perfectly in tune with the subject matter, without a single jarring note among them. Music can transform the mundane into the sublime, and in the case of Next to Normal you have a story that would still be a powerful work if the songs were converted into ordinary conversation. While in some musicals the plot is merely a device to hurry us from one glamourous number to the next, in Next to Normal the musical numbers (which are terrific) really do turn up the dial on the emotional amplifier to eleven.
A musical this powerful demands a cast and crew that can bring their best game, and Black Swan State Theatre Company's people once again show that they have the credentials to tackle the most demanding of works.
The cast are a wonderful ensemble, with everybody on form during our night's viewing. James Bell as Gabe Goodman was perhaps my personal favourite, but as the one free spirit in a troubled set of characters he might have had a bit of an unfair advantage! These guys and girls can really sing, and I'd pay to listen to the cast just doing a concert – true goosebump material. A special mention to Brendan Hanson as Dan Goodman, whose scene and song in the armchair brought me the closest I have ever been to blubbering like a baby during a play. Thanks mate. I honestly don't know how the cast manage to get through the whole show every night, it must be a completely draining experience.
A quick nod to David Young, the musical director, and his 6 piece band, whose unseen (but definitely not unheard!) work underpinned the whole show.
Once again the set, costuming and lighting were first class, just as we have come to expect from a Black Swan State Theatre Company production. Although I'd just like to add that the use of the rotating stage to move characters around during scenes was done flawlessly and added a special touch to the proceedings – very cool!
Whether you are a fan of musicals or not, Next to Normal is recommended viewing. It's more than just entertaining, it is a masterpiece blending of music and story that got me right in the feels. I think for me the (manic) high point of Black Swan's 2015 season.

Next to Normal by Black Swan State Theatre Company is on till the 22 November.

If you enjoyed this article, please share it!