Details

Category: Arts & Culture
Published: Tuesday, 24 January 2017 12:14
Written by Nita Teoh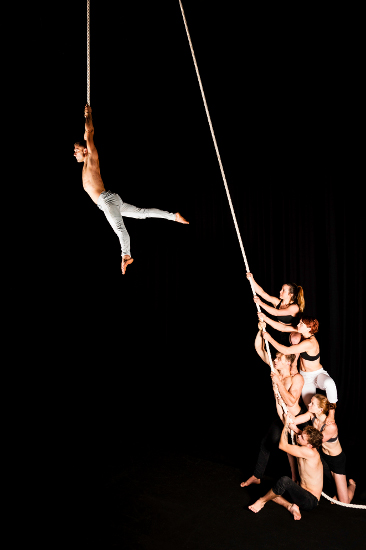 By A Thread
Photo Credit: One Fell Swoop Circus

What can a small, dedicated group of aerial acrobats do with only 30 metres of rope suspended in the air?
…A whole lot, and more - as we discovered while watching a stunning performance of By a Thread by the One Fell Swoop Circus group at the Fringe World Festival in Perth.
Making their debut in Perth, the circus artists packed their bags and took a road trip to get here from Melbourne. It has also turned out to be quite an adventure for audiences in Perth who have been lucky enough to watch these amazing aerialists play life-size cat's cradle with their rope as they swung, manoeuvred, somersaulted, jumped and glided around the Big Top.
As the night unfolded, we saw different members of the group take the lead in the execution of their moves - using only the rope as a prop, and supported unconditionally by their fellow team mates at a range of levels - physically, mentally and emotionally.
Strong yet agile and nimble, these artists are high calibre performers who have honed their craft, through sheer hard work and countless hours of training at the National Institute of Circus Arts (NICA), pushing the boundaries of physical strength and endurance.
The night is young, and so are the performers. So if you are still young at heart, and looking to watch a visual feast of amazing aerialist acrobatics performed within a contemporary circus stage and set to some vibrant musical scores, then By a Thread by the One Fell Swoop circus group makes for an excellent choice at Fringe World Perth. It's a great combination of circus, acrobatics, and aerial work coming together into something more than the sum of its parts.
They will be on at the Lunar Big Top, Pleasure Gardens till 2 February.
If you enjoyed this article, please share it!
For the hottest events around Perth, follow us at @PerthWalkabout