Details

Category: Arts & Culture
Published: Friday, 26 July 2013 09:01
Written by Greg Letts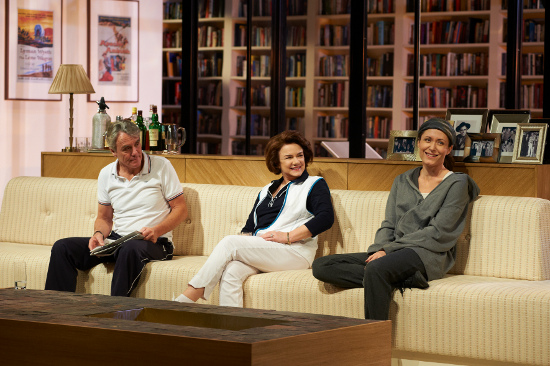 Robert Coleby, Janet Andrewartha, Rebecca Davis in Other Desert Cities
Photo Credit: Gary Marsh Photography and Black Swan State Theatre Company
A play involving a family tragedy and the secrets, depression, anger, blame and grief it causes is a sensitive subject to tackle. Then throw in a heavy dose of American liberal vs conservative politics and the natural conflict between parents and children, and you have a mix that could result in a preachy, self indulgent and narcissistic two hours of theatre. Fortunately Black Swan State Theatre Company's production of Other Desert Cities by playwright Jon Robin Baitz is none of these things.
Instead the audience is treated to two hours of intensely gripping drama as the Wyeth family meets for Christmas 2004. Brooke Wyeth (Rebecca Davis), daughter of Lyman (Robert Coleby) and Polly (Janet Andrewartha) is recovering from depression, has returned to her parents Palm Springs home after 6 years away with her soon to be published second book, which is a memoir of the families personal tragedy caused by the suicide of eldest son Henry, who had been involved in a bombing on home soil back in the 1970s.
In a family where appearance is everything and secrets are closely guarded, Brooke's book threatens to tear their world apart. Other Desert Cities takes a close look at what lengths will a parent go to protect their children, and asks the question as to whether children have a responsibility to protect their parents. Does free speech and transparency guarantee your happiness?
While watching this play, I am left with no doubt that I am glimpsing a real family in action. Only your family has the ability to press your buttons and twist the knife where it hurts most, and the Wyeth family is no exception. Brooke's liberal politics and desperate desire to make sense of the family tragedy runs smack bang into her parents old guard Republicanism and need to bury the past. And while little brother Trip acts as the family mediator and diffuser of tension, Aunt Silda (Vivienne Garrett) pours gasoline on the family fire, with explosive results.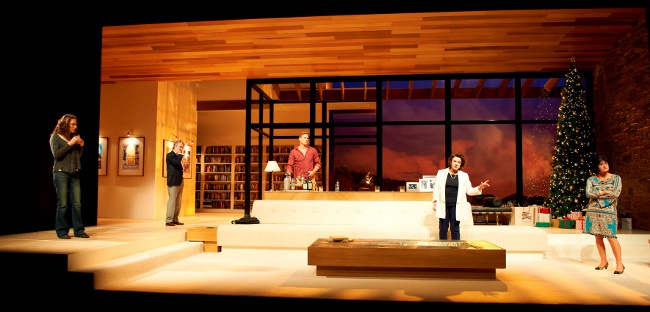 Other Desert Cities
Photo Credit: Gary Marsh Photography and Black Swan State Theatre Company


The cast of Other Desert Cities all give stellar performances, with my personal favorite being Conrad Coleby in the role of Trip. His dialogues with sister Brooke resonate with the feel of a true brother/sister relationship, with all it's frictions, jealousies, love, support and brutal honesty that siblings have. But I would be amiss not to mention the scenes between Brooke and Polly - anytime both of these actresses are on the stage, the tension goes up a notch as we witness mother and daughter, tied together but opposite in so many ways, both refuse to take a backward step or offer an olive branch in their relationship. It becomes increasingly clear that despite the love between them, Brooke's memoir is going to sever their connection forever. Neither of them want it to happen, but neither can compromise their principles to avoid disaster.
All of this makes for two hours of tense and involving drama. There are plenty of moments of laughter too, but it certainly isn't of the light and bright kind. Even humour is used as a weapon in this family. I personally would have liked to see a slightly different ending - the current finale is fine but I was intrigued about what might have happened if a different approach was taken, which is all I can really say without spoiling things.
Other Desert Cities is the American family distilled down to its essences - parents vs children, liberals vs conservatives, secrets vs openess. No one side comes out on top or is unsullied by the end of the ride - and what a ride it is!
For more Related Articles, please scroll to the bottom of this page.
If you enjoyed this article, please share it!