Details

Category: Arts & Culture
Last Updated: Friday, 26 August 2011 21:14
Published: Sunday, 31 July 2011 04:25
Written by Lee-Ann Khoh
To paraphrase Kermit the Frog, it's not that easy being geeky. But if you're new to Perth... or you've just developed an interest in speculative fiction or anime or tabletop games that your friends don't quite get, never fear – there are places for you.
Specialist Shopping in the CBD

These shops are easily accessible in the city so you can live long and prosper (and pick up some cool stuff) today!
If you're looking for science fiction and fantasy books in Perth, it's hard to go past White Dwarf Books and Fantastic Planet.
White Dwarf is located inside Carillon City Arcade on the Hay Street level. While it's not a huge store, it is stacked from top to bottom in both original science fiction and fantasy and movie/TV tie-ins. The friendly staff are more than happy to help you find what you're looking for, recommend something new or order specific titles for you.
Fantastic Planet is on Shafto Lane, just off Murray Street, and it too has a great collection of books. There are also lists of recommendations and series chronologies around the store to guide you to your next great read and the order in which to read them.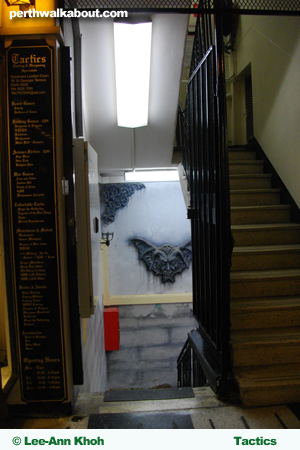 If graphic novels and comics are more your flavour, then head to Quality Comics (872 Hay St). These guys really know their stuff and also have an extensive collection of back issues as well as current issues. Chances are if the comic you're looking for exists anywhere in Perth, it'll be here.
Empire Toys (858 Hay St) is the one-stop shop for toys, collectibles, manga, and other merchandise covering just about every fandom you can possibly think of – from mainstream favourites to cult classics, and even figures of musicians and sports stars. If you're looking for the perfect present for any kind of nerd, Empire is a great place to start.
Tucked away in the basement of the iconic London Court (off Hay Street Mall or St Georges Terrace) lies Tactics, Perth's roleplaying and wargaming specialists. Tactics can be hard to find if you're not looking for it but if you're into gaming – whether it's the well known stuff like Dungeons and Dragons and Warhammer or something more obscure – they are well worth checking out. Apart from selling games and associated accessories and books, Tactics also hosts regular gaming nights where you can meet and play with like-minded people.
Tokyo Underground (Basement, 816 Hay St) can also be a little bit tough to find. Go down the stairs next to Java Juice, then take the first left; there's a colourful mural on the wall near the store entrance. Tokyo Underground stocks all sorts of Japanese-related merchandise including anime, collectibles, and gothic Lolita outfits.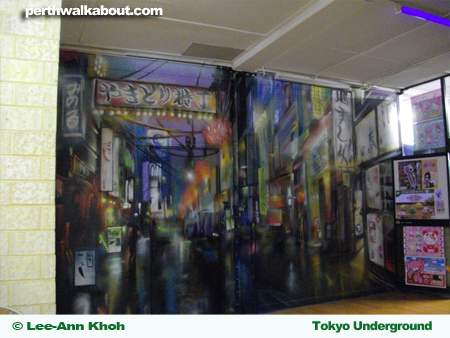 Nerds Unite!

In addition to shopping for geek gear, there are a number of annual conventions in Perth where lovers of science fiction, fantasy, anime and other apparently "nerdy" interests can come together – often in costume but this isn't necessary. These conventions are usually held over a weekend and play host to an assortment of events, panels, workshops and stalls – You don't have to be a total geek to enjoy them, either!
SwanCon began in Western Australia in the 70s and is now Australia's longest running science fiction convention, attracting mainly fans and writers of SF and fantasy. Past guests have included Terry Pratchett, Neil Gaiman and Garth Nix. SwanCon is usually held at a Perth hotel over the Easter long weekend.
Wai-Con is a celebration of Japanese culture with a focus on anime and manga. Popular features of Wai-Con include anime screenings, cosplay competitions, and game tournaments. Wai-Con is run by PAniC (Perth Anime Convention) and has been held at the Perth Convention and Exhibition Centre since 2007. Wai-Con is held in January.

Supanova is a weekend-long tribute to all things pop culture, including movies and games, and is held in cities around Australia. Guests have included Harry Potter star Tom Felton and prolific author Kevin J. Anderson. Supanova is held in the first half of the year.

GenghisCon is a science fiction, fantasy and gaming convention aimed at students and smaller budgets, but complements the existing conventions. GenghisCon is held in December or January.

Rebel Empire Workshops is a Star Wars-inspired production company based in the southern suburb of Jandakot. They run classes on stage combat and performance, putting on live shows and producing short videos. Their merry band of original Jedi and Sith characters – complete with elaborate costumes, choreography and storylines – have attracted a strong following at conventions such as SwanCon in the last couple of years.
May the Force be with you!
What other "nerdy" things do you know about in Perth? Let us know in the comments.

Other Perth Walkabout Articles

Feed Your Soul at a Perth Bookshop