Details

Category: Arts & Culture
Published: Wednesday, 11 April 2018 09:10
Written by Nita Teoh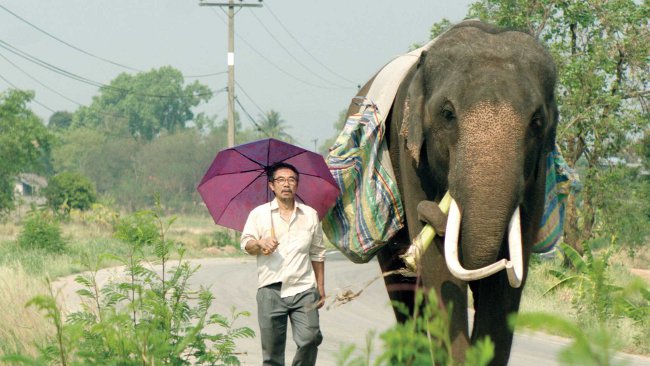 Thaneth Warakulnukroh (as Thana) and Bong (as Pop Aye the elephant)
Photo Credit: Pop Eye, E&W Films, and Giraffe Pictures
Pop Aye is a film about a road trip that a Bangkok architect Thana takes to return his long lost elephant from childhood back to his rural home town.
Experiencing a midlife crisis, with his job turned sour, and his wife unhappy with him, he has a chance encounter with his elephant Pop Aye from childhood days.
Armed with only the company of his dear elephant, he takes a slow ramble back to his rural home town in the province of Loei. Along the journey, he encounters some interesting twists and turns, and meets some colourful characters along the way, each with their own stories to share with him.
Looking older and wiser, Pop Aye's interactions with his humans are a special one. He always seems to know just what to do when crisis hits or when he needs to add his special input. It was a pleasure to watch Pop Eye's personality quirks shine through.
This tender Singaporean-Thai movie stars Thaneth Warakulnukroh (as Thana), Penpak Sirikul (as Bo – Thana's wife) and last but not least, Bong (as Pop Aye the elephant) who achieved top billing in the credits of the film.
The movie is the first for up and coming Singaporean film maker Director Kirsten Tan across two fronts – it won the Special jury award for screenwriting at the Sundance Film Festival, and it is also the first Singaporean movie to have won this award at the prestigious film festival.
In summary, Pop Aye is a feel good movie that is somewhat a little bit quirky and offbeat in a good way. The movie weaves some poignant and tender moments, sprinkled with a good dose of laugh out loud moments along the way.
Pop Aye shows at ECU Joondalup Pines until Sunday 15 April 2018 which is the last day of the Perth Festival.
Bring a picnic before the movie to enjoy the pleasant surrounds of the Edith Cowan University (ECU) Joondalup Pines, located near the lake on campus. Gates open at 630pm. If going by car, follow the Perth Festival film signs along the way when you enter via Joondalup Drive and park at carpark number 14.
If you enjoyed this article, please share it!


To find out about the hottest events around Perth, follow us at @PerthWalkabout