Details

Category: Arts & Culture
Published: Monday, 24 October 2016 09:33
Written by Lee-Ann Khoh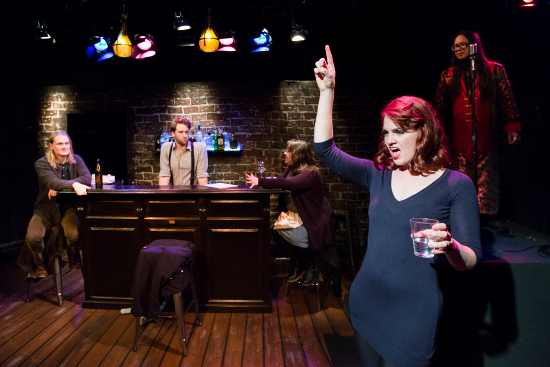 Tristan McInnes, James Marzec, Alicia Osaka, Taryn Ryan, Joe Lui
Photo Credit: Daniel James Grant


Review of [PORTO], presented by The Blue Room Theatre and Lisa Louttit
Entering the theatre for The Blue Room's production of [PORTO] felt more like walking into a cosy laneway bar than a play. I was immediately drawn in by the set – the unassuming bar counter next to a stage with a microphone, and the funky little couch in the corner. When [], the omniscient, fourth wall-breaking narrator (played by Joe Lui) stepped up to the mic in his ostentatious red outfit, I knew this was going to be an intriguing show.
Set predominantly in a Brooklyn bar, [PORTO] is a contemporary slice-of-life play written by American writer Kate Benson, and brought to life in Perth by Lisa Louttit – an accomplished director who has recently moved to WA. We are introduced to five characters whose lives intersect at the bar every evening – titular character Porto (Alicia Osyka), vacuous hottie Hennepin (Tristan McInnes), sultry vodka-swiller Dry Sac (Taryn Ryan), food snob Doug the Bartender (James Marzec) and flirtatious Raphael the Waiter (Nick Pages-Oliver). Feminist writers Simone de Beauvoir and Gloria Steinem, portrayed by Marzec and Pages-Oliver, also make hammy appearances.
Porto enters the bar every night, orders her usual glass of wine and a meal, and sits alone with a book. She wrestles with her secret loneliness and her desire to protect herself from heartbreak, whilst trying to remain a strong, independent woman. Through her story and her interactions with the other characters, [PORTO] explores the search for intimacy and meaning in an increasingly disconnected, superficial world.
The one-act play features a healthy dose of black comedy that had the theatre in raptures. 70 minutes went by so quickly with every member of the cast turning in hilarious performances, punctuated by impeccable comic timing. Afterwards, I found myself reflecting on everything from women's rights to ethical food choices; the play's witty humour provided a safe backdrop for asking questions about today's society and culture.
If you enjoy laughing out loud while contemplating life, [PORTO] is an evening that is not to be missed.
[PORTO] is on at The Blue Room Theatre until November 5.
If you enjoyed this article, please share it!
Find out about the hottest events around Perth, by following us at @PerthWalkabout