Details

Category: Arts & Culture
Published: Wednesday, 21 May 2014 09:49
Written by Greg Letts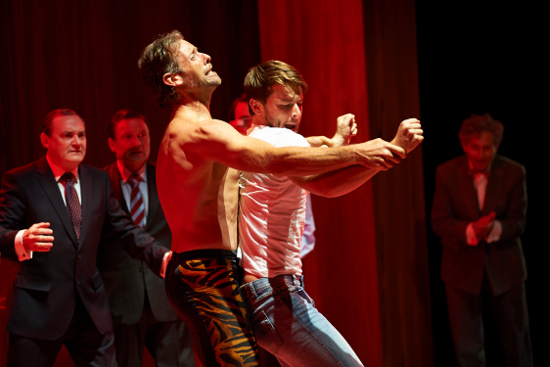 Andy Fraser (Charles, a Wrestler) and James Sweeny (Orlando)
Photo Credit: Gary Marsh Photography and Black Swan State Theatre Company


After the tense, dramatic tragedy of A Streetcar Named Desire, my partner and I were looking forward to some comic relief in the form of William Shakespeare's comedy As You Like It by the Black Swan State Theatre Company.
As somebody whose main exposure to Shakespeare involves suffering through a tedious high school analysis of Macbeth, I was a little concerned that a production that stayed faithful to the original text could make for a night of impenetrable viewing as I attempted to decipher the old style English, but a comedy that has lasted for over 400 years must have something going for it, wouldn't you think?
As it turned out, I needn't have worried. While Shakespeare's words and phrases were faithfully reproduced, the cast were more than up to the task of bringing across the humour and wit of the immortal bard, along with a lashing of facial expressions and physical contortions that added their own touches of comedy to the play.
And while the cast were more than fabulous, I'd have to say that the surprise star of the show was the set itself. While being totally minimalistic, the design brought together the stage and seating so well that you really did find yourself feeling drawn in to the action in front of you. The opening scenes had a classic boardroom feel, while the unveiling of the forest was a truly magical moment. My hearty congratulations to the designers.
With such excellence in settings, it was fortunate that the cast were on top of their game as well. My own personal favourite was Steve Turner as Jaques, the melancholy lord, who has many of the most recognisable lines and who steals every scene he is in. But our hero and heroine (James Sweeny and Jovana Miletic as Orlando and Rosalind) are also a delight to watch on stage together, with a real chemistry between them for the audience to enjoy. Everyone in the cast gets their turn to shine, and shine they do.
The use of modern Australian clothes, technology and songs in the production proved to be quite amusing at times, but thanks to the hard work of Black Swan State Theatre Company, these modern touches only added to the fun, rather than being a jarring note. They also contrasted nicely with some of the older style songs that were performed with style by the cast – I too could have joined Jaques in asking them to sing on!
When discussing the subject of Shakespeare it often seems that indeed "the play's the thing", as many people seem to treat his works with a reverence that allows for no improvisations or alterations. But Black Swan State Theatre Company's production of As You Like It shows that a fine theatre company can take a classic and put their own unique spin on the material. And that 400 years later, Shakespeare can still bring it!
If you enjoyed Perth Walkabout's review of As You Like It, please share it!
Greg Letts is a ppc marketer and guide dog puppy raiser by day, and a play reviewer by night. To get the insider's perspective on upcoming events at Perth, follow us @PerthWalkabout