Details

Category: Arts & Culture
Published: Monday, 09 June 2014 12:30
Written by Greg Letts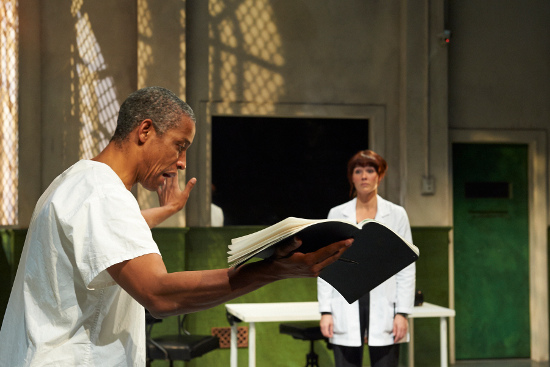 Kenneth Ranson (as David Rail) and Marthe Rovik (as Dr Alice Lowe)
Photo Credit: Gary Marsh Photography and Black Swan State Theatre Company


Black Swan State Theatre Company does it again with their latest production - The House on the Lake at the Studio Underground, State Theatre Centre of WA. Playwright Aidan Fennessy has put together a taut psychological thriller that will keep you riveted right up to the dramatic conclusion.
Lawyer David Rail awakens in a hospital room following an accident, with his long term memory intact but with no recollection of how he got there. Across the room is Doctor Alice Lowe, who needs to carry out a series of routine tests but who seems strangely reluctant to give David a straight answer about what has happened. David feels fine but his last memory is of being at work before heading up to the house on the lake to spend the weekend with his wife. How did he get to the hospital? And why won't they let him go? Just as David loses his temper, he blanks out and wakes a few seconds later, with no memory of what has just happened.
As David continues his cycle of waking, learning about the accident and then forgetting, a strange bond develops between him and Alice, as together they try to determine the truth of what happened that fateful night. But the search for the truth is much more difficult when you don't remember whether you have lied in the past, and the reasons behind your untruths...
And thus the scene is set for Black Swan State Theatre Company's production of The House on the Lake, starring Kenneth Ransom as David Rail and Marthe Rovik as Dr. Alice Lowe. Playwright Aidan Fennessy's script fairly crackles with electricity as we approach the thunderous climax to events. I didn't even realise how tense I had become until the actors came on stage to take their bows and I suddenly heaved a huge sigh of relief. Whew!
I can't talk too much about the plot of the play without giving away important details, so I'll limit myself to say that the two actors give phenemonal performances – the dynamic between the vulnerable and shattered David and sympathetic but professional Alice develops naturally and fits the situation perfectly. With both actors on stage for the whole of the 90 minute production with nary a break, they did an outstanding job of ratcheting up the intensity and tightening their grip on the entire audience little by little as each new development occurred. I'm not one to jump to my feet after a performance (especially when I'm right in the front row!), but I really did want to give these two fine actors a standing ovation for their performance. Thank you Kenneth and Marthe!
As always, the actors depend on many other members of the crew to allow them to display their talents. The set and lighting was once again done to great effect, producing an impersonal clinical feel that added to David's plight. Black Swan State Theatre Company always manage to put on great plays, but The House on the Lake has set a new standard for me when it comes to thrillers. Never have I so needed a stiff drink at the end of play!
If you enjoyed this article, please share it!
Greg Letts is a ppc marketer and guide dog puppy raiser by day, and a play reviewer by night. To get the insider's perspective on upcoming events at Perth, follow us @PerthWalkabout