Details

Category: Arts & Culture
Published: Monday, 18 January 2016 10:09
Written by Greg Letts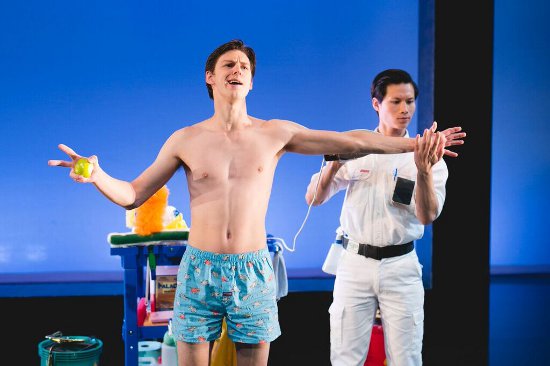 Lincoln Vickery (as Tonsils) & Hoa Xunde (as Lewis) in Loaded A Double Bill of New Plays
Photo Credit: Daniel James Grant & Black Swan State Theatre Company
In Loaded: A Double Bill of New Plays, Black Swan State Theatre Company and the Black Swan Lab present a double header of fresh new plays revolving wobbily around the themes of friends and guns. Neither play is quite your usual take on matters, as the playwrights examine these common issues through a quite different perspective.
The set in Girl Shut Your Mouth oozes girly teenage kitsch, but right from the starting gun it is clear that the audience is not in for a night of John Hughes-like teenage coming of age comedy. Instead, we are launched into a world where violence and tragedy is so commonplace that it has become routine instead of shocking. Just like our four main characters, we are not sure who the enemy is, why they are hated, how to escape and whether there is anywhere safe to escape to.
With hints of school violence, religious fanaticism, detention camps and everyday society woven into the narrative, Girl Shut Your Mouth is light and bright on the surface and profoundly disturbing underneath. At certain points during the play I found myself wanting to jump up on stage and halt proceedings, I was so drawn into the story.
With the cast giving strong performances and the usual Black Swan production values, this is a highly professional production but not one that makes for a night of comfortable, relaxing theatre. Entertaining but very intense.
In contrast, Tonsils + Tweezers started out in a lighter vein, or as light as you can get considering that the main character expresses his desire to go shoot up his high school reunion in the first few minutes of the play. But here the frequent flashes of humour bring greater contrast to the deeper, darker parts of the story, lifting the lid on some of the negative sides to friendships, and the repercussions that can ensue when one person attempts to change the dynamic.
Good performances all round, although Megan Wilding as Beth goes dangerously close to stealing the show. Tonsils + Tweezers is funny at times, very sad and moving at others, and packing a resonating resolution that brought a thunderous burst of applause from the audience towards the deserving cast.

Loaded A Double Bill of New Plays is on until the 7 February 2016.

If you enjoyed this article, please share it!


To find out about the latest events in Perth, follow us at @PerthWalkabout