Details

Category: Arts & Culture
Published: Saturday, 25 October 2014 09:43
Written by Nita Teoh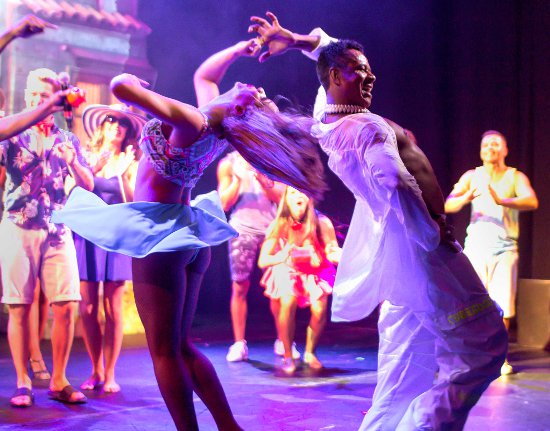 Photo Credit: Brazouka


Did someone say Brazouk?

Yes - the much anticipated Brazouka has opened in Perth at the Regal Theatre in Subiaco. The high energy dance performance tells the story of the main character Braz Dos Santos. Braz grew up in Portos Seguro, Brazil, where his childhood is shared with many other siblings, and times are tough, as he spends much of his time out at sea to help his family put food on the table.
As the evening progresses, we are swept into Braz's other exciting world, that of his passion for dance. And does Braz dance - at his local markets, the local bar & bordello, pretty much any moment that he can find to unleash his dance talents.
When his dancing prowess is spotted in Portos Seguro and he is invited to Paris to show off his talents and new style of dancing the Lambada, all hell breaks loose when his father puts his foot down and refuses to let him leave Portos Seguro.
Brazouka is about a lot of things. It is about dance, but there is more to it than just a few rigid dance steps. It is a visual feast via a very sexy dance form, it is raw energy, it is about the connectedness and sexuality of humans as brought together through dance, it is about the human spirit, it is about unique talents and the chance to display them. It is about being happy in the moment expressed through dance.
As I watched the taut ripped bodies of the performers, the athleticism of the dancers amazed and mesmerised. The dance styles exhibited during the evening spanned many genres – including Lambazouk, traditional Orixa dance, contemporary, neo zouk, rio zouk, and African to name but a few.
The hot energy and talent of the performers of the Brazouka oozed off the stage and its addictive qualities was contagious amongst the audience. And finally at the end of the evening, the audience got to do what it was dying to do – which was to Brazouk!
Hats off to all the talented performers of Brazouka and the production team who make it happen.
Brazouka is a high energy dance performance that steals the limelight and will for every night that it is in town. Don't miss the opportunity to watch Brazouka whilst it is in Perth.

If you enjoyed this article, please share it!
Nita Teoh follows her nose to find out the latest happenings in Perth. To get the insider's perspective on upcoming events at Perth, follow us @PerthWalkabout