Details

Category: Arts & Culture
Published: Tuesday, 17 March 2015 10:12
Written by Greg Letts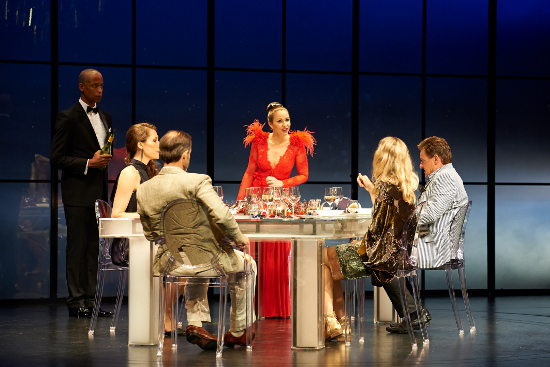 Dinner - Kenneth Ransom, Rebecca Davis, Steve Turner, Tasma Walton, Greg McNeill, Alison van Reeken
Photo Credit: Gary Marsh Photography and Black Swan State Theatre Company

It has been a while since Black Swan State Theatre Company has produced a black comedy, but Dinner by Moira Buffini more than makes up for that, presenting the theatrical equivalent of a fine 90%+ chocolate – dark, bitter and confronting, with an after taste that lingers.
Dinner parties from hell always make a good setting for theatrical comedies, and Dinner does not disappoint. The opening scene hints that Paige's celebratory dinner for husband Lars' new self help book will be something out of the ordinary, and the night that ensues certainly lives up to this promise.
Paige has carefully orchestrated the entire night's menu and entertainment in her own inimitable and inimical fashion, but will her elaborately planned soiree survive the loss of one guest and a gatecrashing van driver? Or will working class Mike turn the tables on this gathering of the social and intellectual elite?
Much like Mike, as a member of the audience I felt like I too had turned up unannounced to Paige's dinner, without any knowledge of the characters in the play. And just like walking around in the fog outside Lars and Paige's home, I was left with a shifting and uncertain perspective of each character, with tantalising glimpses of the real people behind the shroud of obfuscation, but with large areas of shadow and mystery. As the entree is served, it soon appears that tonight is a night where each person's facade is going to crumble, but the events that caused the cracks and stresses aren't always made clear. Writer Moira Buffini refuses to spoon feed the audience with character back stories, but there are clues as to what led each character to his or her own personal crisis.
While Dinner is dark in tone and intriguing in nature, do not be fooled into thinking that there is no humour to be found. On the contrary, there are lashings of comedy served up to the audience, but it is unrelentingly and unapologetically dark and full of ill will. Buffini taps into the deep, hidden places of the human pysche and opens the floodgates in a tidal wave of black humour as the characters turn on each other.
If you like your theatre warm and fuzzy, then Dinner is not going to be to your taste. But if you have been looking for a truly black comedy to cleanse your theatre going palate, then this Dinner is not to be missed – although I'd skip the dessert if I was you!

Dinner by Black Swan State Theatre Company is showing till the 29th March.

Catch it at the State Theatre Centre of WA.

If you enjoyed this article, please share it!
Greg Letts is a ppc marketer and guide dog puppy raiser by day, and an entertainment reviewer by night.

This month on Perth Walkabout - we'd love you to support "Team Harry" on our HBF Run for a Reason - Jog 4 a Dog journey to raise funds for the next guide dog puppy for Guide Dogs WA.

To get the insider's perspective on upcoming events at Perth, follow us @PerthWalkabout