Details

Category: Arts & Culture
Published: Wednesday, 02 July 2014 09:19
Written by Nita Teoh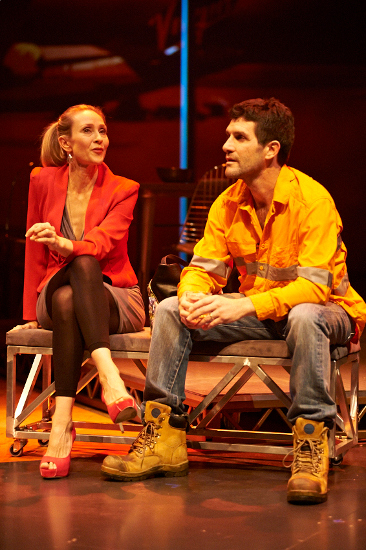 Alison van Reeken and Benj D'Addario, Dust
Photo Credit: Gary Marsh Photography and Black Swan State Theatre Company


It was a cold winter's evening as we stepped out the door to watch Dust by Black Swan State Theatre Company at the State Theatre Centre of WA.
Dust is Suzie Miller's new play which is being shown to Perth audiences for the very first time.
A strange, huge, wind storm of red dust hits Perth….the city is forced to shut down, and the locals grapple with what is happening.

Is it an apocalypse or a major environment disaster? The end of the world, or a chance for new beginnings?
As the play unravelled, I found myself easily immersed in its storyline – the characters in the play are down to earth, easy to relate to, and the issues raised are contemporary.
Some of the scenes are just down right funny and made me burst into laughter - don't we all have that nosy neighbour that comes to chat with us when we are snowed under and need to get away, but they just don't get the hint?!
The underlying themes that were explored in the play are:
Our cosmopolitan mix of locals of Australia – of varying ethnicities and background – making assumptions and stereotyping people can land you in the poo.
We make assumptions about people – who they are, where they come from? – we try to relate to an individual as best as we can based on our own perspective and experience of the world, and sometimes we get it wrong, slanted by our own prejudices, ignorance, carelessness…
Love - relationships, one night stands, the perfect wedding, step families – no matter what stage of love you might be at, love is and can get complicated.
FIFO mining scene – this issue is dear to the heart of many families in Perth. Well paid workers, able to support their families and pay off the mortgage, but at the cost of extra stress in their relationship. Why do we make the choices that we do? Can you really trust your partner when you are away from home so much of the time?
Technology – we are blessed and cursed in this modern era of smart phones and social networking – we have the ability to connect with others in wonderful new ways – but all too often technology simply leads to more demands from employers, spouses, families, etc.
Environment – with global warming, and our environment changing on a regular basis, it is not too far fetched to think that we will face an environmental catastrophe event in our lifetimes. How would modern civilisation cope when things we take for granted grind to a halt?
Though the play is only a hypothesis – Miller does a wonderful job of showcasing the possible ramifications that ensue from a freak of nature hitting Perth.
The use of a mix of technology to create the ambiance of the set throughout Dust was very well done. The Cottesloe scene was one of my favourites in the play - I was blown away how well live action and film were merged together to unique effect.
Dust gets its…it gets what we care about, what we are scared about…its realism cuts to the core of issues that we grapple with in our daily lives, a little too close to the bone at times.
Judging by the audience reaction and multiple encores, Black Swan State Theatre Company can look forward to a very successful upcoming season of Dust.
I certainly loved Dust – thanks to Suzie Miller for bringing contemporary issues to light in such a funny and endearing play that is uniquely Perth.
The play makes the audience laugh heartily, but beneath the fun and laughter, it makes us take a hard look at the truth of our lives – which can sometimes be clouded by the filters through which we see our own lives.
A Perth play for Perth people... I hope that DUST will make a stunning debut on the international scene.
If you enjoyed this article, please share it!
Nita Teoh follows her nose to find out the latest happenings in Perth. To get the insider's perspective on upcoming events at Perth, follow us @PerthWalkabout