Details

Category: Arts & Culture
Published: Thursday, 03 July 2014 12:54
Written by Greg Letts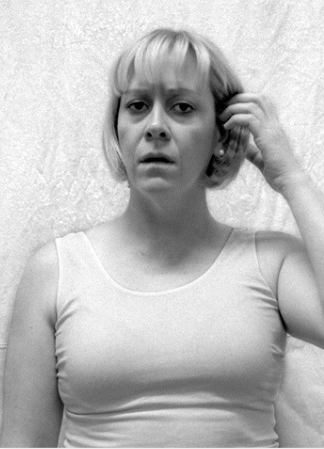 Andrea Gibb, Eight Gigabytes of Hardcore Pornography
Photo Credit: Perth Theatre Company


With a title like Eight Gigabytes of Hardcore Pornography, and a warning in the program that the play contains adult themes, sexual scenes and nudity, it was with some relief that my partner and I found ourselves walking into the Studio Underground to find a minimalist set of neutral coloured venetian blinds, two chairs and a luxurious looking carpet. Performers Andrea Gibbs and Steve Rodgers were fully clothed and pacing around the stage as the audience filed in.
While we waited for the last of the patrons to arrive, I became uncomfortably aware that in some way the show had already begun while I hadn't noticed. The actors switched back and forth between moments of introspection and watching the audience. With the house lights still up to allow people to find their seats, it dawned on me that me and my fellow patrons were being intimately inspected by the actors, as if we were their entertainment for the night. I was suddenly thankful for my position several rows back from the stage, which gave me a modicum of anonymity. It was something of a relief when the house lights went down, but by this stage the connection between the actors and audience had already been established.
While several plays breach the fourth wall to allow an actor to talk to the audience as a whole, this offbeat start to 8GB gave a whole different feel to the dynamic between actor and audience. Andrea and Steve had more than just seen us arrive – they were completely aware of each and every one of us. It's quite unsettling to start watching a play when you feel like the actor is keeping track of you!
Once the play began in earnest, it became clear why this pre-performance routine was so important. What follows in the next 70 minutes packs so much more emotional punch when a link between cast and audience exists. 8GB goes to some pretty dark, raw and vulnerable places, and it needs its viewers to be receptive as the actors venture deep into the human capacity for self-loathing, deception, and self-destruction.
That doesn't mean that 8GB isn't entertaining or funny – there is a lot of dark humour here. Writer Declan Greene casts a wide net across the sea of the human psyche, resulting in a number of times where the audience laughs together, and quite a few moments where one lone soul finds something in the play that resonates, and lets out a solo burst of laughter while the rest of the audience is sitting there in empathetic sadness for the characters.
As warned in the program, there is some nudity in the play, and while I would think that taking off your clothes in front of a crowd is probably not the easiest thing in the world to do, I'd have to say that the actors probably find the revealing of a character's innermost private thoughts and feelings tougher than the baring of a little flesh.
8GB is not 70 minutes of light entertainment – it's hard going for both the actors and the audience. It asks for more from its audience than the average show, and while many plays raise difficult questions about modern day life and relationships, with 8GB you actually feel that the writer and actors expect you to answer them.
Everybody needs a little tough love now and then. Go get some.

Eight Gigabytes by the Perth Theatre Company and Griffin Theatre Company is on till the 12th July at Studio Underground, State Theatre Centre of WA.

If you enjoyed this article, please share it!
Greg Letts is a ppc marketer, ping pong player, guide dog puppy raiser by day, and an entertainment reviewer by night. To get the insider's perspective on upcoming events at Perth, follow us @PerthWalkabout