Details

Category: Arts & Culture
Published: Monday, 11 February 2013 09:19
Written by Greg Letts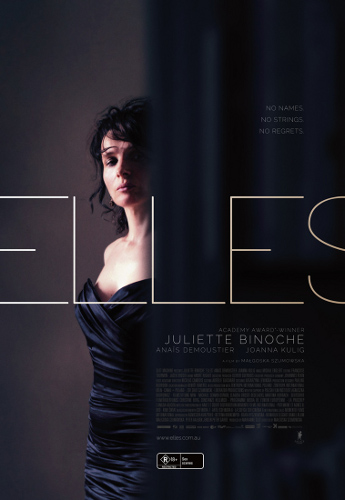 My partner asked me to accompany her to watch the premiere of Elles at Luna Cinemas. I hadn't got around to reading the synopsis of the film beforehand, so I started watching with no idea of what was to come other than my partner's brief comment that it involved a female journalist and was rated R due to sex scenes. As a typical red-blooded guy, I figured that at least there would be a bit of eye candy to look at even if the film was not to my taste.
As it turns out, I got things the wrong way around. The sex scenes in Elles are some of the most depressing depictions of sex that I've had to sit through, while the story itself was quite interesting.
The storyline of Elles revolves around a forty-something Parisian woman (Juliette Binoche as Anne), who is married with two kids. Anne appears to be your typical uptight middle class female - which is conveyed by the fact that she is unable to bring herself to pee in a dingy public toilet just before she conducts an interview. She is writing an article for Elle magazine on the topic of university students who are supporting themselves via prostitution, and at the start of the movie we are shown Anne sitting in her designer apartment writing up her notes from the interview she conducted with two such students - Charlotte (a local lower class French girl) and Alicja (a foreign student).
As far as I could figure out, the movie seems to take place over a two or three day period, with flashbacks to each interview interspersed between Anne's daily routine of cooking, cleaning, and washing. As Anne goes about her mundane daily chores, and prepares a dinner party for her husband's boss using a recipe she learned from one of the students, she continues to recall different parts of each interview, and we become aware that her attitude to her joyless middle class life is starting to change, as she realizes how confining her life has become.
As the movie progresses, we discover that Anne is emotionally estranged from her husband, her oldest son is smoking pot and getting ready to fail his final exams, and her youngest son is retreating from the family into the escape of video games. Anne is attempting to keep her family functioning, but things have obviously been sliding downhill for some time. She attempts to scold her oldest son for being high and failing to study, but is left lost for words when he fires back that she has her own set of problems that she is doing nothing about.
Anne continues getting ready for the big dinner party, and the flashbacks to the interviews continue, along with scenes showing the students at work with their clients. Anne is shown moving about her apartment, where the camera follows her so closely that I was feeling claustrophobic and wishing the cameraman could hold the camera still for two seconds to allow me to focus clearly on something. I'm guessing that this was the effect the director was looking for, and I must admit it brings a real sense of how stifling Anne's life is.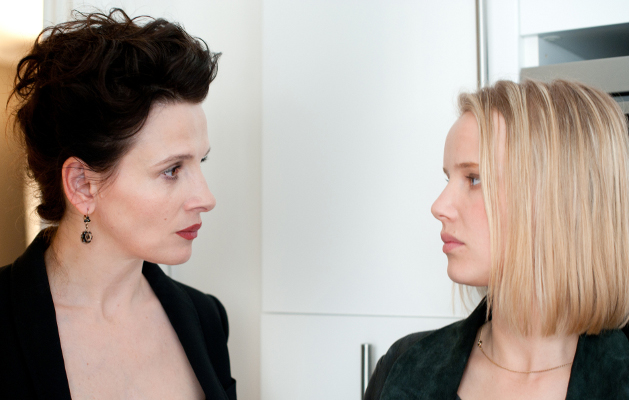 Anne and Alicja in Elles


In these type of movies where an uptight straight person meets the free thinking, non-conformist rebels, the plot usually seems to revolve around how much more attractive the rebel's lives are to the ordinary person. But as we watch the lives of Charlotte and Alicja unfold, there doesn't appear to be anything particularly appealing about their way of life either. Sure, they are managing to get through university on their own terms, but it's hard to see exactly what it is that Anne would find so appealing about the student's lifestyles. There are tender moments here and there with some clients, but also some degrading scenes that highlight all that can be unhealthy about purchased sexual contact. It's uncomfortable to watch, as you see one client simply wanting to be able to hold hands and play his guitar naked before sex, while another client is reduced to tears and unable to perform as he is overwhelmed by Charlotte's gentle touch, a scene which is suprisingly sad and moving in a way that I was not expecting.
At any rate, these two interviews appear to be forcing Anne to become more and more dissatisfied with her own existence and her failure to face her own problems. So as the dinner party finally arrives, I was expecting everything to come to a climactic(!) head with some form of resolution one way or another - will Anne conquer her issues and bring her family together again, or will she leave them all behind and strike out for freedom?
I should have remembered that this is a French film, and instead of a satisfying resolution, we get a dinner party day dream where the students' clients are guests, followed by Anne escaping into the night, where it appears that she has broken her shackles, since she can now pee in a public restroom without a problem. And then she returns to her apartment, where we discover that after all her interviews, flashbacks and self-analyzing, Anne has in fact learned absolutely nothing about human beings, intimacy and sex. Instead of achieving intimacy with her husband through communication and comforting touch, Anne behaves exactly as if she was one of the students' clients, throwing these things by the wayside as she ignores her visibly distressed husband's feelings and instead simply dives on his genitalia. His rejection of her insensitive advance is cringeworthy for both parties, both for Anne's feelings of rejection and her husband's emotional upheaval as he is presented with sex without love.
The final scene of the movie involves what appears to be breakfast the next morning, and is typically inconclusive in that European film festival sort of way. Anne and her husband chat to their kids, pass the orange juice and eat breakfast while exchanging glances that are hard to read. There is no sense of hostility, but no real sense of closeness either. Are they resigned to their loveless marriage? Have they taken the first step along the way to patching things up, or are they headed in different directions? In the end, it's up to you to decide. If there is a sign one way or another, I'm afraid I missed it.
All in all, Elles is not a bad movie by any means, but it's kind of uneven in my opinion. There are some truly touching moments and a decent thought provoking storyline, but also some seemingly pointless scenes and an ending which is perhaps satisfying for the director and the arty crowd, but irritating for those of us who like our movies to wrap up the storyline conclusively.
Bottom line: Came for the sex, stuck around for the story, left wanting to know what happened next.
More Details
Movie: Elles
Director: Malgorzata Szumowska (Ono)
Starring: Juliet Binoche, Anais Demoustier, Joanna Kulig
Rating: R+

Length: 98 mins

For more information visit Luna Leederville

For more Related Articles, please scroll to the bottom of this page.
If you enjoyed this article, please share it!