Details

Category: Arts & Culture
Published: Friday, 28 October 2016 12:07
Written by Nita Teoh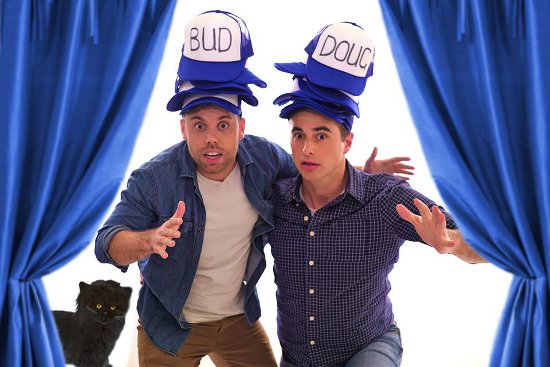 Bud Davenport (Tyler Jacob Jones) and Doug Simon (Andrew Baker)
Photo Credit: Holland St Productions

Last night was the opening night of Holland Street Productions latest's show - Gutenberg the Musical!, and as my partner and I stepped into the Hellenic Centre of WA on Stirling Street in Perth, we eagerly awaited what the local independent theatre group might have in store for us.
The night kicked off nicely with pre show drinks available from the bar amidst chatter and a great vibe coming from the musical patrons.
Gutenberg the Musical! revolves around the two main characters Doug and Bud, who are trying to make it big on Broadway with their new musical about the invention of the printing press by Johannes Gutenberg. The night went by very quickly as we were kept thoroughly entertained by the song and dance acts of Doug and Bud.
What struck me throughout out the performance (when I wasn't laughing very loudly at their antics) was both actors' versatility to juggle so many hats (or in Doug and Bud's case literally so many caps) whilst acting, along with demonstrating their terrific singing prowess. Doug and Bud did it all for us as much laughter emanated from the halls of the Hellenic Centre.
It was an absolutely hilarious night of mad cap(!) entertainment and I'll eagerly be keeping a look out for their upcoming January / February performance.
I take my hat off or rather (take my cap off) to the team at Holland Street Productions, Doug Simon (Andrew Baker) and Bud Davenport (Tyler Jacob Jones), and Musical Director Joshua James Webb and Director, Choreographer Erin Hutchinson.
If you enjoy musicals with a seriously satirical funny bent, Gutenberg the Musical! is for you. And with a running time of just under 2 hours, including a short intermission, it's a great night out of entertainment in Perth.
Holland Street Productions latest's production Gutenberg the Musical! runs for the next 6 nights till 5 November.

If you enjoyed this article, please share it!
Find out about the hottest events around Perth, by following us at @PerthWalkabout