Details

Category: Arts & Culture
Published: Wednesday, 03 September 2014 15:12
Written by Lee-Ann Khoh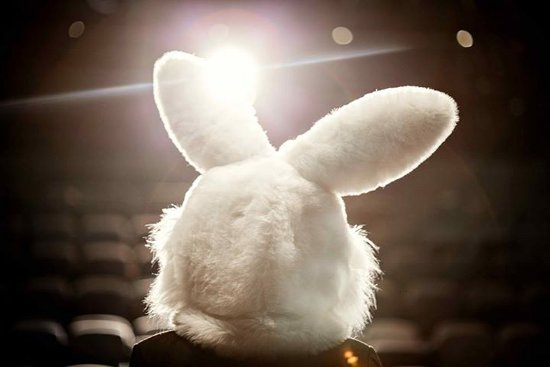 White Rabbit, Red Rabbit
Photo Credit: Stevie Martin-Cruz and Perth Theatre Company

To describe White Rabbit, Red Rabbit as a unique experience would be an understatement. More than just a play; it is a theatrical experiment by Iranian playwright Nassim Soleimanpour. Soleimanpour was barred from leaving his country because he refused to take part in compulsory national service, and so his mysterious script travels the world in his place. Every night, Soleimanpour's play is performed by a different actor, who is not given the script until they step onto the stage.
Like each of the performers who signed up for White Rabbit, Red Rabbit, I was unsure of what to expect. As I entered Studio Underground, I was greeted with a dimly lit set. On the right hand side of the stage was a wooden ladder. On the left was a wooden chair tucked in behind a table. On the table were two glasses of water and a bulging white envelope containing the actor's words for the evening.
Veteran stage actor Sam Longley stepped into the starring role for the opening night on September 2, 2014. His background as an improvisational comedian held him in strong stead for a hilarious performance. But we as the audience are not merely watching an actor read and discover a script. Certain audience members are selected to perform specific roles in entertaining skits, the relevance of which become clearer as the play unfolds. However, the rest of the audience is as much a part of the show as them, the actor, and even the absent playwright.
White Rabbit, Red Rabbit opens up an intriguing dialogue between writer, actor and audience that bridges time and geographical boundaries. It was often "laugh out loud" funny, but there were appropriately uncomfortable moments where we became aware of the gulf between our lives in Australia and that of the writer's. Soleimanpour's script results in a thought-provoking interactive play that dissects freedom and the meaning of life and existence.
White Rabbit, Red Rabbit presented by the Perth Theatre Company is on until September 13 at Studio Underground at the State Theatre Centre of WA, and promises to be a different show every night.
If you enjoyed this article, please share it!
To get the inside scoop on upcoming events at Perth, follow us @PerthWalkabout