Details

Category: Arts & Culture
Published: Friday, 07 December 2012 13:36
Written by Nita Teoh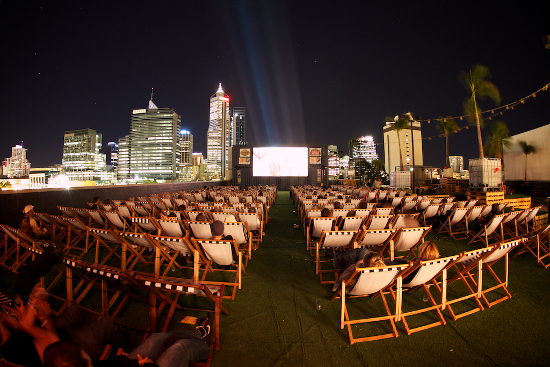 Rooftop Movies Perth
Photo Credit: Jarrad Seng and Rooftop Movies Perth


Summer is the perfect time to hit the outdoor movie circuit in Perth. The weather is balmy, and getting outdoors for a night of entertainment is a perfect way to spend an evening with family and friends. Well, Perthites are in luck as organisers of Artrage (including the beloved Fringe World Festival) have set up Rooftop Movies in the heart of Northbridge, showing your favourite flicks out in the open air until the end of April.

So where are these pop up movies in Perth?

If you mosey your way up to the top floor of the Roe Street car park via the stairs on James Street, near the Northbridge Piazza, you'll find a hidden oasis lined with palms and a pink flamingo or two (or three!) You might think you have mistakenly rolled up for a game or two of mini golf, but don't worry, you're in the right place.

Grab a comfy deck chair and sit back to enjoy the movie, with the Perth CBD skyline acting as an entrancing backdrop. There's a wide range of movies to suite all tastes, with comedy, spaghetti westerns, festival, cult and classic movies all getting their turn.

The Rooftop Movies program is released each month and for the rest of December will showcases movies including the cult classic Reefer Madness, anime Howe's Moving Castle, and Underground, a drama set in Belgrade. You can watch the Broadway classic Cabaret starring Liza Minelli, for a spot of Berlin nightlife socialite glitz and glamour in the 1930's. Once Upon a Time in the West will appeal to lovers of spaghetti westerns.

Speaking of spaghetti, if you're feeling peckish, there's a snack van or two on site where you can grab some food and drinks to enjoy during the movie. For those of you with larger appetites, you can pre order a tasty pizza from Valentinos before 5pm for collection before the movie starts. The Rooftop movies are licensed premises so you'll be able to grab a glass of your favourite beverage to sip as you watch the big screen. And if you're the designated driver for the night, you'll be rewarded with a free soft drink and popcorn!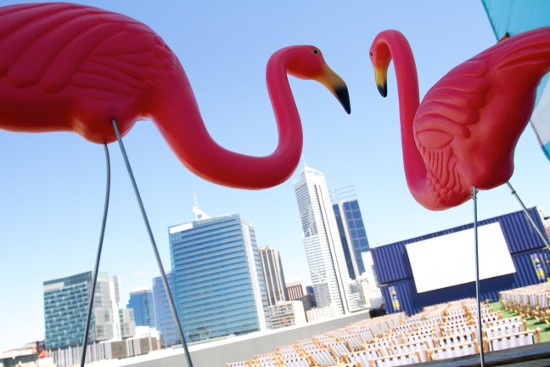 Pink Flamingos, Rooftop Movies Perth
Photo Credit: Jarrad Seng and Rooftop Movies Perth

Details
Rooftop Movies in Perth

Tickets can be booked online up to 5pm on the day or purchased at the door.

Movies commence from 8pm

Pre screening entertainment from 6pm

Special discount for parking at $8.50 – validate your movie ticket at the Box Office.

Bring some comfy cushions, a picnic rug and dress warmly.

Parking all night from 6pm Roe Street carpark, at 68 Roe Street

If on foot, you can access the Rooftop Movies off James Street, via the elevator, opposite the Northbridge Piazza.

For more information, visit the Rooftop Movies Perth website.

For more Related Articles, please scroll to the bottom of this page.
If you enjoyed this article, please share it!