Details

Category: Arts & Culture
Published: Sunday, 17 June 2018 11:02
Written by Greg Letts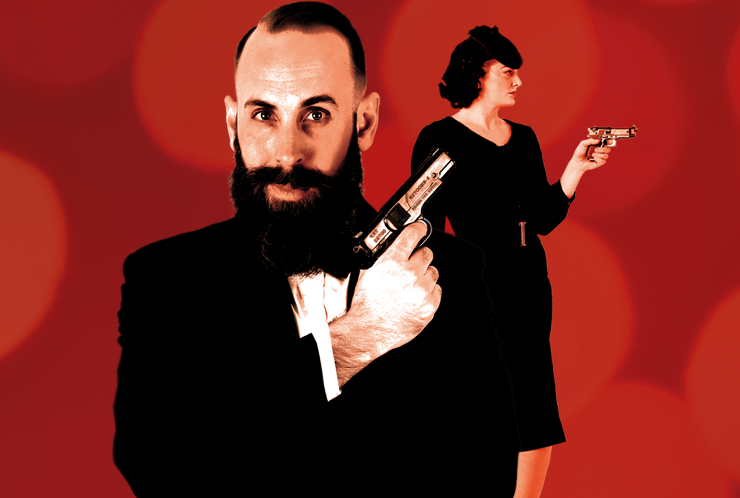 Charlie D Barkle and Erin Hutchinson, Shaken
Photo Credit: Shaken
Having seen my share of Bond movies over the years (Daniel Craig is quite good, but Sean Connery is still THE Bond in my book), I was looking forward to heading to The Ellington Jazz Club to watch Charlie D. Barkle and Erin Hutchison put their own spin on 007 with their production of Shaken: A James Bond Cabaret.
My partner and I were already familiar with Erin from her time in What Doesn't Kill You [blah blah] Stronger at the Perth Fringe Festival, so we came in expecting to be treated to an evening of sharp wit and fabulous singing, and we were not disappointed.
Billed as a competition between all seven James Bond actors, Shaken is the brainchild of Charlie D. Barkle, and combines trivia, humour, a bit of sketch comedy and of course the theme songs from all your favourite Bond movies.
Much like the earlier Bond films, Charlie and Erin's tongues are planted firmly in their cheeks, even when it comes to belting out the musical numbers. While still garnering laughs from the appreciative audience, their renditions of the hits were beautifully done.
So pour a healthy dose of Bond trivia, add a splash of comedy, garnish with a bit of audience participation, shake well (not stir!), and you have Shaken: A James Bond Cabaret. You'll listen to the music, laugh at the jokes, and learn a bit more than you might have expected about the actors who have graced the screen as James Bond over the last 50 years. And if the cold weather puts you off having a martini, we can thoroughly recommend the mulled wine!

The Ellington Burlesque and Cabaret Weekend wraps up tonight - Shaken is on at 7pm followed by Tease Mania - Wild Burlesque at 830pm.

If you enjoyed this article, please share it!
To find out about the hottest events around Perth, follow us at @PerthWalkabout