Details

Category: Arts & Culture
Published: Thursday, 05 September 2013 08:21
Written by Nita Teoh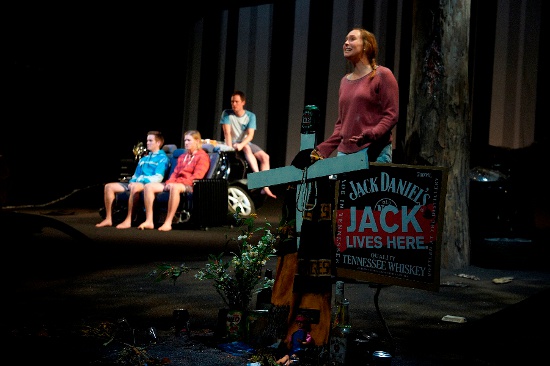 Luke McMahon, Will McNeill, Paul Ashcroft, and Whitney Richards in Shrine
Photo Credit: Gary Marsh Photography and Black Swan State Theatre Company


Distinctly West Australian, emotive, and charged with tension and gut wrenching grief are some of the key words to describe Tim Winton's latest playwright piece Shrine, produced by Black Swan State Theatre Company.
The characters come to life as the tragedy of Jack Mansfield's death is revealed. At the tender age of 19, Jack dies in a car crash whilst driving home to Perth with his mates, and the repercussions of his death are destroying his parents and haunting his friends.
It is dark, it is depressing, it is sad – when a significant death event is thrust into our lives unexpectedly. Winton sets the scene and paints this picture vividly at the start. With all that conversation drenched in tragedy and depression, I wasn't sure whether I was going to enjoy the next 1½ hours of this performance.
As the play unfolds, the perspective shifts to allow the audience to understand each characters's perspective on the tragedy. Firstly, there's Jack's father Adam, played by the lead actor John Howard, and there's also Sarah McNeill as Mary, Jack's mother. Both actors give convincing performances as parents in a relationship ripped apart by their son's pointless death, while each attempting to deal with the situation in their own way and failing.
Then there's June, the girl who spent a fateful night with Jack, before his death – through her recollection of events, she is able to share with Adam the last poignant hours of her time with Jack. Through this sharing of Jack's final acts of humanity, some of the burden of his grief is lifted, knowing that his son made a difference to the world before he died after all.
Some of the key themes that were explored in Shrine:
The dangers of country living – road tolls and accidents. This is especially heart wrenching when a traffic accident claims the life of a young person unexpectedly and for no reason.
The meaning surrounding the death of a loved one – what is the meaning of death, especially when a young person dies. The issue is grappled with by those closest to you. It appears senseless, tragic, pointless, unexplainable. It is agonising to work through this time as friends and family struggle to make sense of it all. For Jack's parents who outlive their own son, it seems a cruel turn of fate, and we watch them grapple with their own demons and guilt regarding Jack's fate.
The joys of youth in a country town with surf and sand… reckless abandon, the surfing culture, mucking around, enjoying the moment, carefree days spent as youth. Jack's mates who are in the car crash are traumatised by the event – and also experience their share of guilt - the guilt of having forgotten Jack at his near crucial point of death, hurled out of the car, when the emergency team arrive. If they had said something, could this have saved Jack's life? They bury this thought under teenage bravado…. it's too painful to even think about what might have been. Could their actions have changed the cause of this tragic event?
Misfits in society or are they?…we've all met misfits in society….ostracised for being a bit different…June is categorised as a misfit, nicknamed the "IGA girl", that "country bush pig". But underneath all of us, no matter whether we are from the right end of town or not, surely we are all the same. We all have feelings, we all hurt, we all agonise…..dig deeper underneath…..aren't we all the same? Beneath pretension, underneath material wealth, below status in society, what difference is there?
The backdrops and visual effects were beautifully presented on the set. I especially enjoyed the whale scene when Jack and June are making their way back to shore, the set emphasises the treacherousness of the situation that they have got themselves in, amidst which, a witnessing of an amazing sighting of whales occurs. You can almost feel yourself out on the ocean, floating around at night in the pitch black with just a touch of milky phosphorescence here and there as you paddle about.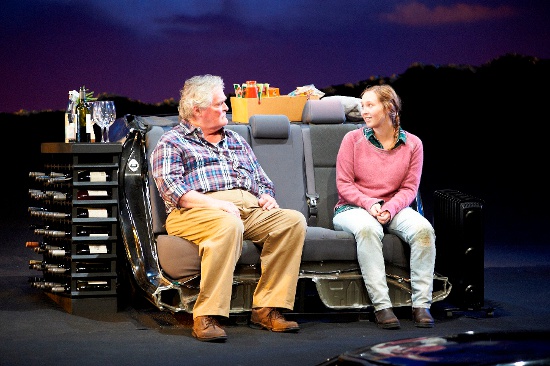 John Howard and Whitney Richards in Shrine
Photo Credit: Gary Marsh Photography and Black Swan State Theatre Company


In the latter half of the play, the background of the sparkling water lapping at the edges of the beach in the evening times were calming, amidst some very intense conversational dialogue.
I enjoyed the poignancy of the conversations between Adam and June – June was able to help Adam reinterpret the events surrounding his son's death by sharing a few tender aspects of Jack that Adam was not aware of. She helped to shine a small beacon of light – a glimmer of hope that his son was a beautiful person, he cared for others, he made a lasting difference to somebody, in an otherwise senseless death.
The play left me in silent awe and a feeling of having glimpsed the inner lives of real people trying to deal with an intense personal tragedy, struggling to cope in their darkest hour but with the hope that acceptance and resolution might be possible after all.
Distinctly West Australian, Shrine is a fine addition to Winton's treasure trove of works. The play is stirring and Black Swan State Theatre Company has once again given us a memorable night of theatre. Watch it. It's not all pretty but you will come out the other side better for the experience.
If you enjoyed this article, please share it!