Details

Category: Arts & Culture
Published: Monday, 03 October 2016 08:47
Written by Nita Teoh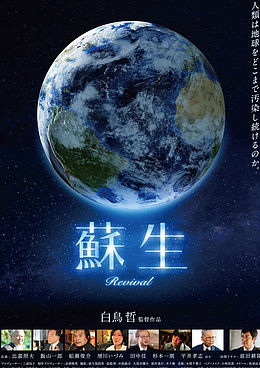 What is happening to our planet Earth?

Natural disasters including drought, bushfires, floods, cyclones, earthquakes in Australia and around the world are on the rise.

The Japanese film "Sosei – Revival" has arrived in Perth!
In this fascinating documentary, director Shiratori takes us on a scientific journey to reveal how the power of beneficial microorganisms which are the oldest organisms known on Earth, could help restore the environment which has long been polluted by human activities. Radioactive contamination is not an exception.
There will be three exclusive screenings of the Japanese documentary film "Sosei – Revival" at the State Library Theatre of the Perth Cultural Centre on Saturday 15th October.
The film is the fourth in Shiratori's inspiring Earth Revival Project series. As part of the series, each film has the core mission of raising human consciousness so that we can imagine and create harmonious relationships in our environment, the ecosystem and across society on this planet Earth.
Confronted by the devastating impact of the Fukushima nuclear accident in East Japan in 2011, Shiratori uses film as a medium to share information about issues that affect humanity, and through his creative works, he hopes that individuals can consider a future with brighter possibilities.
Film Director Tetsu Shiratori comments on the impact that he hopes SOSEI - Revival will have on film goers:
"I hope this film, SOSEI - Revival, would give inspirations to people and encourage us to overcome the differences and confrontation that separate us from working together and instead use our time and gifts for respecting and caring for each other and start to act wisely so that we can leave what's truly precious for our children."


We are fortunate to have this film especially brought to Perth audiences by Taeko, the event organiser in Perth.
Taeko commented about the impact that the film "SOSEI – Revival" has had on her:
"I watched this film in Japan 4 times about 2 years ago and was determined
that I really want to let Australian people watch this film!"


After negotiating with the film Director, Mr Shiratori she was allowed to show this film in Australia.
Don't miss this fascinating Japanese film documentary SOSEI – Revival.
EVENT DETAILS
Film documentary: Sosei – Revival
Japanese documentary of the journey to revive the Earth (with English subtitles)

Film Director: Tetsu Shiratori

Production: Tokyo Heiwa Co. Ltd, Office Tetsu Shiratori

Date: Saturday 15th October 2016: 11am / 1.30pm / 4pm

Venue: State Library Theatre: 25 Francis Street, Perth

Tickets Price: advance tickets $15 or door sales $18

Info & Tickets: For more info and to book tickets online, visit www.ecomidori.net/event
If you enjoyed this article, please share it!