Details

Category: Arts & Culture
Published: Friday, 15 November 2013 11:20
Written by Nita Teoh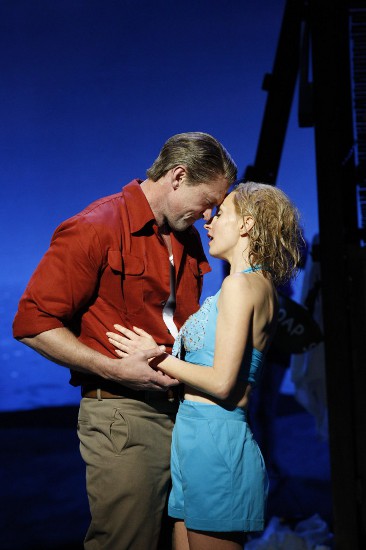 Teddy Tahu Rhodes as Emile De Becque and Lisa McClune as Nellie Forbush, South Pacific
Photo Credit: Jeff Busby

The much awaited musical South Pacific is now showing at Crown Theatre, and its mass appeal was confirmed by the size and range of the crowd waiting in eager anticipation last night.
The relationship of South Pacific with Australians has been a long and loving one, dating way back to 1952 when it was first performed at Her Majesty's Theatre in Melbourne, though the first Roger and Hammerstein production to hit Australia was actually Oklahoma!
It's now 2013, and performances of The Lincoln Centre Theatre Production of the all time classic South Pacific presented by Opera Australia and John Frost continue to enchant crowds, with its romantic story line, impressive musical score and sheer energy of the cast.
The story is set on the islands of the South Pacific during the World War II, unfolding amidst a backdrop of American military, nurses, native islanders, and plantation estates run by the colonial French.
War is hell, and throughout the story we see evidence of the toll it takes on people's lives. But while the war casts a long shadow over proceedings, people are still people, and life goes on. The Navy Seabees are looking to get off their island and meet some women on Bali H'ai (leading to a rousing rendition of "There is Nothing Like a Dame" which lit up the stage. And although the Seabees are looking for love across the sea, nurse Nellie Forbush (played by Lisa McClune) and widowed French plantation owner Emile De Becque (played by Teddy Tahu Rhodes in his musical debut) have fallen into a whirlwind love affair of their own.
It's a typical girl meet boy story, with much of the action unfolding on the terrace of Emile De Becque's lavish plantation home. Strong and confident, Emile pursues his true love, while Nellie is drawn towards De Becque's charm, despite her rational side telling her not to proceed with this love affair. Emile also has a dark past (in more ways than one!), which threatens to destroy their fledgling love. Despite her prejudices, Nellie finds that "Washing him out of her hair" at the Bath House proves to be a much more difficult task than expected.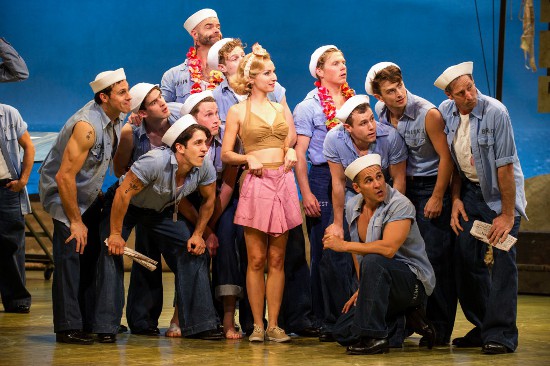 Lisa McClune as Nellie Forbush and the Male Ensemble, South Pacific
Photo Credit: Kurt Sneddon
The set and costumes of South Music are magical and sweep you into the tropical world of the South Pacific, and both the set and lighting directors should take a bow for the mood lighting reflected in the backdrop clouds, which are stunning and do a wonderful job of emphasising the mood of the various scenes.
And there is a wide range of moods to work with, from the lightheartedness of The Thanksgiving Follies concert, the playfulness of the Bath House, the exotic island of Bali H'ai, the gorgeous island sunsets and bleak greyness accompanying Emile's sad musing that he nearly had paradise in his hands.
The supporting cast do a sterling job of supporting the two leads throughout the show. Christina Anu's Bloody Mary slides from comedic relief to a convincing display of a mother's love and worry for her daughter, while Mitchell Butel as Luther Billis casts away any inhibitions with a hugely enjoyable performance that links everything together like a (voodoo?) charm. Blake Bowden (Lieutenant Cable) and Celina Yuen (Liat) also give us fine performances in their supporting romance - a romance which must have been a controversial topic way back in 1949 during the original production.
Not to forget our two main characters - the operatic prowess of Teddy Tahu Rhodes left its mark on the production - his voice is amazingly powerful, and was well supported by the orchestra at front. During his solos he was able to let rip with his full range of sound and fury to majestic effect, while he ensured that during his duets with Lisa McClune he didn't let his voice overpower his co-star. Lisa McClune put in a fine performance as well, full of spark and life, optimistic while still vulnerable. Singing with an opera veteran like Teddy must be a daunting prospect, but she holds her own throughout the night.
Upon exiting the show last night, there was little wonder that this production has broken box office records around Australia. McClune and Rhodes combine well together, and for the audience at the Crown Theatre last night, it was a certainly an enchanted evening that will not be forgotten.

South Pacific run tills the 8 December. Don't miss it for a fresh look at an all time classic musical.
If you enjoyed this article, please share it!
Nita Teoh pens her passion for Perth at Perth Walkabout. She enjoys exploring by foot and letting readers know about the hidden gems of Perth.