Details

Category: Arts & Culture
Published: Monday, 10 June 2013 09:58
Written by Nita Teoh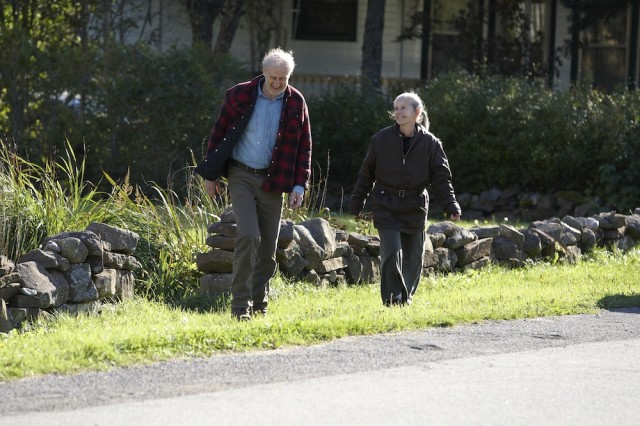 Still Mine now showing at Windsor, Nedlands is a poignant movie about an elderly couple in their eighties and the challenges that they are faced with living on their farm in New Brunswick.
Based on a novel by Michael McGowan, the movie was nominated for Best Motion Picture and the lead actor James Cromwell's moving performance won him "Best Performance by an Actor in a Leading Role" at the Canadian Screen Awards 2013.
We follow the story of Craig (James Cromwell) and Irene (Genevieve Bujold) as they battle the local council to build their new home on their farming property in New Brunswick. Craig's motivation to build their new home is driven by Irene's ailing health and he will stop at nothing to provide for his wife. With his skill as a carpenter handed down through the generations, and time on his hands, building his new home should be a simple task.
But bring in the good old government and the powers of bureaucracy, and it seems that the whole world, in particular Rick (Jonathan Potts), an inspector for the building of new homes, get in his way as one obstacle after another confronts Craig.
Some of the themes that stood out for me when watching the movie were the following:
When we are young, we don't have much empathy for the plight of elderly people as it does not appear to be something that is relevant to our lives. However, no matter what age we are, we all have to face death as mortal beings at some stage in our lives. As Craig with his positive outlook on life so aptly puts it when his son challenges him on whether he should be building a new home at his age, "Age is just an abstract (concept), not a straightjacket".


The support of family is another issue that comes up strongly in the movie. As your parents get older, the parent/child dynamic begins to reverse and you have to take on the carer role. Although what you think might be the best options for your parents, may not be what they want. In Craig and Irene's situation, their son and their daughter are very concerned that they are no longer able to manage independently on their own. But Craig and Irene persist in maintaining their independence, no matter at what cost. For them, independence and the ability to make their own decisions is crucial. As the child, do you step in and overturn your parents' decisions when in your eyes, they are no longer coping?



Dealing with the outside world such as government agencies and bureaucracy can be highly infuriating and frustrating. Craig's beliefs that underpin the construction of his new home is that his labour of love is made from high quality materials and an artisan level of craftsmanship, so what on earth could be the problem here? He tries to navigate the waters of local council building codes, and goes through an immense amount of pain to fight his cause as Rick, the villainous property inspector rears his ugly head at every turn.
When we are in a long term relationship with our loved one, we not only share the joyful moments, but we also share the painful and heart breaking times. In Still Mine, we get to share on screen the most intimate moments of conversation and dialogue between Craig and Irene. It is poignant, it is heart wrenching, it is sad, it is joyful. It is many emotions rolled into one movie.
Alzheimers – Irene faces the challenge of losing her memory as she gets older. Not only is it frustrating for the person who has this condition to live their life, but we also watch Craig have to handle yet another challenge of losing the person who is dearest to him in his life. They are there, but not as you know them.
Still Mine will appeal to those who are looking to watch a movie with depth and intimacy. If you enjoy a film with strong dialogue, and which explores the depths of each character, then you will find watching Still Mine a true delight.
A poignant and deeply moving movie.
Still Mine opens at Cinema Paradiso, Northbridge and Windsor, Nedlands on 6 June.
If you enjoyed this article, please share it!