Details

Category: Arts & Culture
Published: Thursday, 30 March 2017 15:03
Written by Nita Teoh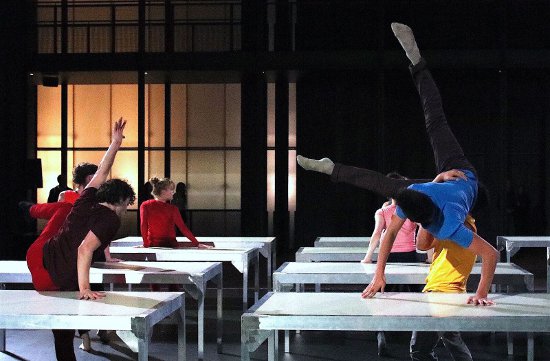 One Flat Thing Reproduced
Photo Credit: Strut Dance

As we waited in the courtyard of the State Theatre Centre of WA, there was a buzz in the air as dancers limbered up for their performance of One Flat Thing Reproduced.
It marks a one of a kind event where independent dancers from around Australia and New Zealand have arrived in Perth to participate in a finely choreographed performance watched by a roaming open air audience. Paul Selwyn Norton of STRUT Dance has collaborated with William Forsythe to create this amazing production.
As I watched the dancers in action, their amazing flexibility, agility and athleticism was apparent as they deftly manoeuvred across, over, and under the stage set – a simple set consisting of twenty metal tables. The dancers executed with machine-like precision to a finely choreographed sequence.
In this fine performance, choreographer William Forsythe explores the theme of "The Questioning of Robert Scott" – about the gruelling account of the famous explorer's race to the South Pole that eventually cost him his life. The metallic discordant chords of the accompanying music by Thom Willems certainly added to reinforcing the theme.
It's modern – it's edgy - it's Australian choreography at its best.
There will be 3 more shows of One Flat Thing Reproduced - with the last show this Satudrday night, as a pre event to Black Swan State Theatre Company's Once in Royal David's City.
Shows start at 645pm and run for 20 minutes.
If you enjoyed this article, please share it!
To find out about the hottest events around Perth, follow us at @PerthWalkabout