Details

Category: Arts & Culture
Published: Wednesday, 09 May 2018 15:13
Written by Lee-Ann Khoh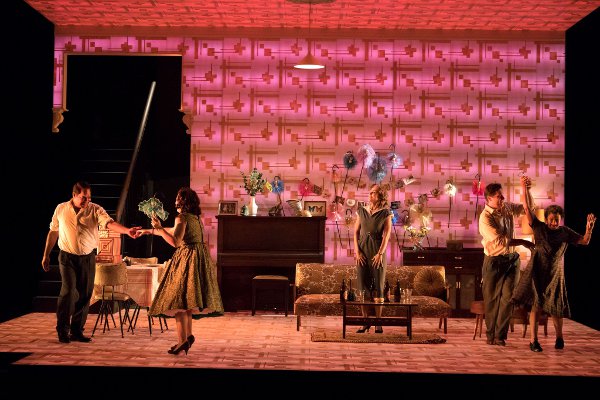 Summer of the Seventeenth Doll
Photo Credit: Philip Gostelow


Set in the Melbourne suburb of Carlton in 1953, Summer of the Seventeenth Doll tells the story of a group of companions and their long-standing tradition. Roo (Kelton Pell) and Barney (Jacob Allan) are two mates who work seven months a year cutting cane in Queensland before coming down to Melbourne to stay with Olive (Amy Mathews) and her mother, Emma (Vivienne Garrett). The play takes its name from the kewpie dolls that Roo gives Olive each year – this marks the seventeenth year of their relationship.

Olive lives for the excitement of the five-month "lay-off" seasons, but it soon becomes apparent that this year is different. Nancy, who was previously paired with Barney, has married someone else; she is often mentioned but never seen in the play. Barney also reveals that Roo is broke after walking off the job following an incident with a younger worker, Dowd (Michael Cameron).

Keen for things to continue as they always have, Olive has invited Pearl (Alison Van Reeken), a widow who works at the same pub as her, to replace Nancy. But while Olive and her young neighbour Bubba (Mackenzie Dunn) share a romanticised view of their summers, Pearl – as an outsider – sees all its terrifying imperfections.

Playwright and actor Ray Lawler rose to prominence in the mid-1950s with Summer of the Seventeenth Doll, which has become an Australian classic. This was the first time I'd seen it, but despite originally being performed over 60 years ago, I found it to be an engrossing depiction of 20th century Australia, with the talented cast doing a fine job of bringing the complex characters and underlying tensions to life. The play explores masculinity, ageing, and the pitfalls of holding desperately onto the past – themes that still resonate with modern day audiences.

Summer of the Seventeenth Doll, presented by Black Swan State Theatre Company, is on at the Heath Ledger Theatre in the State Theatre Centre of Western Australia until May 20.

To find out about the hottest events around Perth, follow us at @PerthWalkabout

If you enjoyed this article, please share it!