Details

Category: Arts & Culture
Published: Thursday, 24 August 2017 11:15
Written by Nita Teoh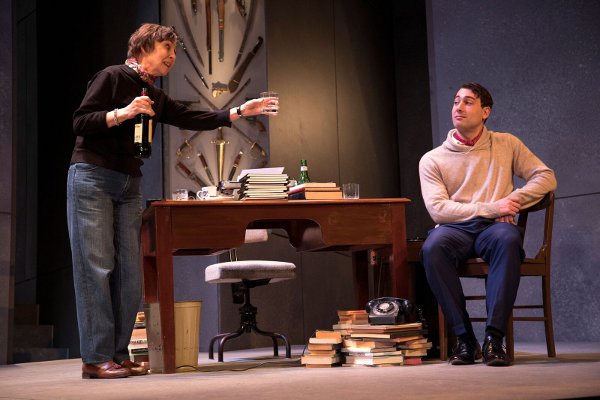 Jenny Davis (as Patricia Highsmith) and Giuseppe Rotondella (as Edward Ridgeway), Switzerland
Photo credit Philip Gostelow

Joanna Murray-Smith is the Australian playwright of this chilling production which is based on the life and times of famous suspense novelist Patricia Highsmith (played by Jenny Davis). Highsmith is famous for her psychological crime thriller titles including The Talented Mr Ripley and Strangers on a Train.
Set in the Swiss alps, Highsmith's reclusive existence is intruded upon by the young and vapid New Yorker Edward Ridgeway (played by Giuseppe Rotondella), who has been sent by his publishing company to get her to sign up for a final last masterpiece in her Ripley saga.
What ensues is a terse battle of wills, as Patricia and Edward duel with words and ideas as sharp and dangerous as the knives, swords and guns so lovingly on display in Patricia's bleak mountain retreat. Edward's attitude is that he will get Patricia to sign the contract if it is the last thing he does, and he might just be right about that.
Patricia embodies the definitive mad genius complete with tantrums, insults and lightning changes of mood - glorifying in hurting and provoking Edward with her malicious words, pushing him to the edge, testing his character, forcing him to confront his past and reveal his hidden secrets.
Somewhere in the performance, the balance of power begins to waver and see-saw back and forth, keeping the audience on the edge of their seats until the final sensuous and brutal act in the life of a woman obsessed with murder and its parallels to love.
Black Swan State Theatre Company's stark grey stone set threw the focus onto the two characters right from the word go, with minimal distractions to draw the eye away. The sloping floor added an uncomfortable element to the production, and was used with finesse to underscore the power dynamic between Patricia and Edward. Congratulations to the actors who handled this tricky ebb and flow of dominance with assurance.
Switzerland is another fine production by Black Swan State Theatre Company in which Artistic Director Clare Watson has brought a menacing and genuinely creepy atmosphere to playwright Joanna Murray-Smith's eloquent prose. This product of Switzerland is definitely of the dark variety – but be warned, it may contain traces of nuts.
Switzerland is on at the Heath Ledger Theatre of the State Theatre Centre of WA till 3 September.
If you enjoyed this article, please share it!
To find out about the hottest events around Perth, follow us at @PerthWalkabout