Details

Category: Arts & Culture
Published: Wednesday, 26 October 2016 09:43
Written by Greg Letts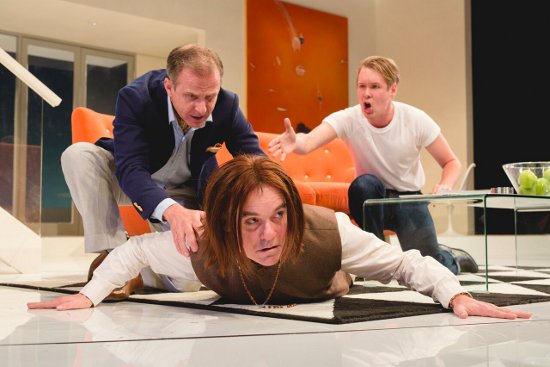 Steve Turner (Orgon), Darren Gilshenan (Tartuffe), Alex Williams (Damis)
Photo Credit: Daniel James Grant and Black Swan State Theatre Company
"The more things change, the more they stay the same" is a favourite cliche of our times, but never has it been more true than in Black Swan State Theatre and Queensland Theatre Company's production of Tartuffe – the Hypocrite. Originally written by Molière in the second half of the 17th century, it has been updated by Justin Fleming into modern day Australian and honestly feels as if it could have been written yesterday.
Hypocrites who prey on the weak and vulnerable abound in our society, and while Tartuffe focuses on religious charlatans, it could just as easily be applied to many of our modern day activists and lobbyists who talk a good game but whose real motives are depressingly materialistic.
Molière and Fleming do a much better job of skewering these frauds than I could, so enough about that and on with the show!
The first thing you will notice about Tartuffe, apart from the both beautiful and practical set by Richard Roberts, is that the script is spoken in a rhythmic verse that you certainly don't hear all that much in plays these days. It takes a little while for your ears to adjust, but you soon get the hang of it, and the restrictions of the format do allow for some very funny contortions with the language and delivery by the cast.
Satire such as Tartuffe must be witty and humorous while making its point, otherwise it descends into boring preaching at the audience, and I am glad to say that between the excellent script, terrific set and wonderful cast, Tartuffe hits the mark. The stage is set with a delicious harangue by Jenny Davis' Madame Pernelle as she proceeds to unload point blank on the rest of the characters in a show stealing performance. A very tough act to follow but never fear, the Black Swan cast are more than up to the challenge, with the arrival of Steve Turner's Orgon and much anticipated appearance of Darren Gilshenan's Tartuffe both providing even more comic fodder. I often like to mention a character that is my special favourite on the night, but in Tartuffe there are so many to choose from!
Tartuffe is a fitting final farewell to Kate Cherry after a nine year run as Black Swan State Theatre Company's Artistic Director, as she moves on to the position of Director and CEO of The National Institute of Dramatic Art. But in keeping with the sentiments at the beginning of this review, while it is certain that Black Swan State Theatre Company's direction and play selections will change, their commitment to bringing us high quality productions to enjoy will remain as high as ever.
Tartuffe is on at the State Theatre Centre of WA till the 6 November.
If you enjoyed this article, please share it!
Find out about the hottest events around Perth, by following us at @PerthWalkabout