Details

Category: Arts & Culture
Published: Saturday, 23 June 2018 09:14
Written by Lee-Ann Khoh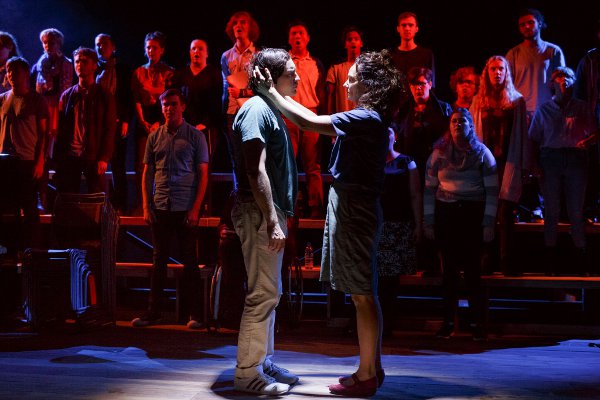 The Boy (Johnny Carr) and Claire (Catherine McClements), The Events
Photo Credit: Daniel J Grant

Set in the aftermath of a mass shooting that has rocked a community, The Events follows Claire (played by Catherine McClements), an Anglican priest, as she tries to come to terms with what has unfolded. Sometime before the play begins, the multicultural choir that Claire leads was targeted by a young man with a gun. The shooter, referred to only as The Boy (Johnny Carr), is now behind bars, while Claire wrestles with her conflicting desires to forgive him and seek revenge.
Throughout the play, Carr seamlessly takes on multiple roles: The Boy; his father; his school friend and fellow outcast; the right-wing politician whose ideologies The Boy identified with; the writer whose book inspired The Boy; Claire's therapist; and Claire's partner. In her quest to understand why The Boy did what he did, Claire finds herself confronting each of these characters.
The play breaks the fourth wall on a number of occasions, inviting the audience to be immersed in Claire's beloved and now-shattered community. A different Perth choir performs each night, only receiving the script shortly before entering the stage. For the Perth premiere, it was the Mighty Camelot Chorale that lent their beautiful harmonies to the performance.
Given the difficult themes being explored, The Events is often uncomfortable to watch, with the lines between "good" and "evil" noticeably blurred. Inspired by the 2011 Norway terrorist attacks, David Greig's play raises complex questions that continue to be relevant in a world where terrorism and gun violence remain at the forefront of our minds. What drives someone to commit such atrocities while believing they are in the right? How does one move forward and begin to heal from events like these? Can victims of such events ever truly understand or forgive the perpetrator? It is not insignificant that The Boy is given no name; he could represent any number of disillusioned "lone wolf" attackers who see others taking what they believe is rightfully theirs and respond with an act of terror.
The Events, presented by Black Swan State Theatre Company, is on at Studio Underground in the State Theatre Centre of Western Australia until July 8.
If you enjoyed this article, please share it!
To find out about the hottest events around Perth, follow us at @PerthWalkabout