Details

Category: Arts & Culture
Published: Monday, 01 May 2017 12:15
Written by Lee-Ann Khoh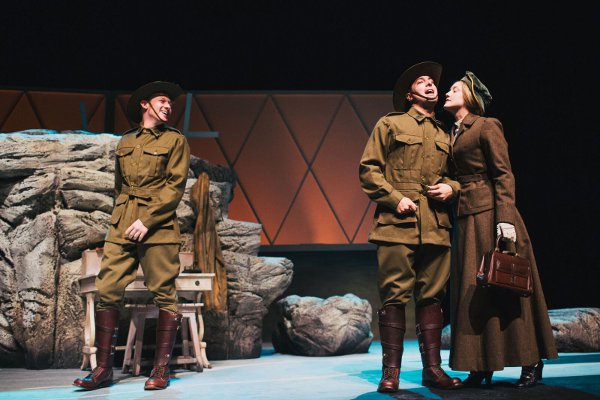 Will McNeill (as Jim Finch), Giuseppe Rotondella (Charlie) & Alex Malone (Alice Finch) in The Lighthouse Girl
Photo Credit - Lee Griffith Photography and Black Swan State Theatre Company


As I waited for the Perth premiere of The Lighthouse Girl to begin, I felt like I was on a boat drifting towards an island, with the sound of waves crashing around the intimate theatre, the rocky landscape on the stage in front of me, and even the way my chair shook as the audience walked down the steps to find their seats.
Adapted by Hellie Turner from Dianne Wolfer's award-winning books, The Lighthouse Girl and The Light Horse Boy, the play is set during the outbreak of World War I. Fay lives an isolated existence on Breaksea Island, south-east of Albany, with her father and old Joe. Fay's father is Breaksea's lighthouse keeper; her mother died several months earlier, and her only other companions are her donkey and her diary. Meanwhile, in country Victoria, best friends Charlie and Jim lie about their age to enlist as soldiers, anticipating a great overseas adventure together.
The dual narratives intertwine when Charlie and Jim are among the troops stationed in WA before they head off to the war. Fay uses flag semaphore and Morse code to communicate with the soldiers, and is soon transcribing and sending their messages to their loved ones back home. Jim writes to his sister Alice, but Charlie has no family and asks Fay if he can write to her instead. Although they have not met face-to-face, Fay and Charlie exchange letters and postcards as he sails to Egypt for training and joins the battlefront.
Over the course of the play, we see the wide-eyed naivety of Fay, Charlie and Jim fade away as they begin to understand the brutal realities of war. In her debut role with Black Swan State Theatre Company, Daisy Coyle captured Fay's kind-heartedness and innocence, while Will McNeill (Jim) was particularly convincing as a lovable larrikin who is forced to grow up much too soon.
The Lighthouse Girl takes you on an emotional journey. There are moments of laugh-out-loud humour that help break up the weight of the story, but the play does not shy away from the solemn truth that war is not something to be glorified or taken lightly. Without resorting to moralising, it serves as a poignant reminder for contemporary Australians, almost a century after the end of the Great War.
The Lighthouse Girl, presented by Black Swan State Theatre Company, is on until May 14 at Studio Underground in the State Theatre Centre of WA.
If you enjoyed this review, please share it!


To find out about the hottest events around Perth, follow us at @PerthWalkabout