Details

Category: Arts & Culture
Published: Sunday, 07 June 2015 15:02
Written by Nita Teoh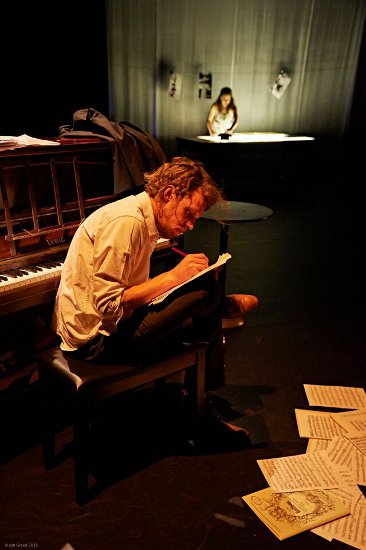 Christian (Felix Jozeps), The Song was Wrong
Photo Credit: Jon Green

Perth Theatre Company's latest masterpiece, The Song was Wrong, celebrated its opening night on Friday 5 June to a packed house. As we waited for the play to begin, the mood was set with the male lead waiting patiently in semi-darkness at the piano for the audience to arrive. Along with the piano playing, The Song was Wrong by Director Melissa Cantwell is a multi media piece combining creative visuals and performance acting.
It follows the love story between two creative spirits – Christian, a pianist (Felix Jozeps) and Cecile, a French photographer (Astrid Grant). After a chance encounter and a romantic first date on a picnic, their lives soon become inextricably entwined, as they fall deeply and madly in love.
As with most relationships, its not always smooth sailing for Christian and Cecile. Life soon gets in the way and pops the romance bubble, and they face issues and difficulties in life that threaten to tear them apart from each other despite their love.

An interesting aspect to the play is that it combines the present and the future on stage at the same time. Can we ever anticipate what the future might hold for us? And would we really want to know what the future has in store for us?
The play is around 2 hours – and it moves along at a languorous pace, allowing the audience time to absorb the full complexities of the production.
It touches a chord on the frailties of our humanity and the depths of love and the opposite spectrum of despair. The Song was Wrong makes you feel deeply for the characters in it, with moments of happiness and joy, along with moments of extreme despair, darkness and sadness.
The flower girl was a favourite of mine in the play. The meaning that she gave to each individual flowers as she sold them from her flower stand reflects the symbolism of life – as we celebrate joyous moments in our life, and as we mourn sad events in turn - such is the ebb and flow of life.

Thank you to Perth Theatre Company for a poignant and sensitive play that unearths the layers of our essence as human beings as we search for meaning in life.

The Song Was Wrong is showing at the Studio Underground of the State Theatre Centre of WA till the 20 June.

If you enjoyed this article, please share it!
Nita Teoh is a ppc marketer and guide dog puppy raiser by day, and an entertainment reviewer by night.
To get the insider's perspective on upcoming events at Perth, follow us @PerthWalkabout