Details

Category: Arts & Culture
Published: Wednesday, 31 January 2018 10:30
Written by Nita Teoh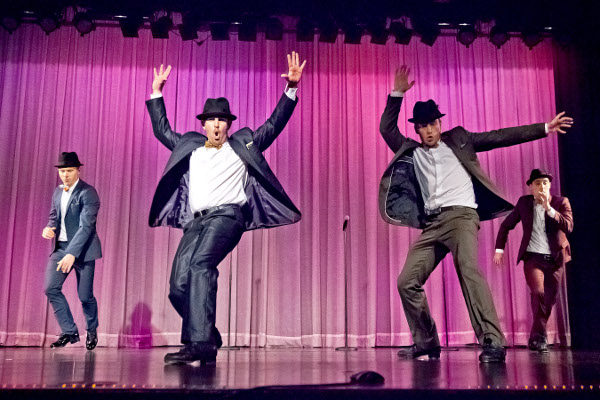 The Tap Pack
Photo Credit: The Tap Pack
It was a cool, balmy evening as we waited for our show at the Pleasure Gardens in Northbridge.
The pre-show stage was lit in an inviting, purple blue haze reminiscent of the smoke filled nightclubs from the 50's and 60's – not surprising considering that the Tap Pack are a modern day blend of the Rat Pack style and music mixed in with pulsating hot tap footwork and beats, along with some amazing finesse and brilliant showmanship.
As the show kicked off, 3 good looking and fit men (Rohan, Sam and Thomas) dressed in razor sharp suits strutted their stuff with slick moves and incredibly quick toe tapping.
But wait a minute, didn't the Tap Pack (and the Rat Pack) have four members? We were later to learn that one of the pack had been temporarily laid low by illness, but this did not deter our intrepid trio as they improvised and tapped their way through the show without missing a beat. The show must go on!
We were treated to classics through to contemporary songs, and along the way stories were shared on how each member got started with this dance form and who had inspired them on their journey. Tributes were paid to legends such as Sammy Davis Jr, Fred Astaire and Ginger Rogers.
Rohan wowed the audience with his dancing prowess, as well as an impressive singing voice as he belted out a selection of swinging tunes. Along the way the Tap Pack made use of beat boxes, pool cues and canes to complement the beat of their flashing feet.
If you are looking for a slick, high energy and comedic tap dancing performance to old tunes and with a modern twist, The Tap Pack guys would be a great pick to add to your list of must sees at this season's Fringe.
The boys are no strangers to show business having starred in countless famous musicals such as The Boy from Oz, Tap Dogs, Singing in the Rain, Strictly Ballroom, Wicked and more.
They will treat you to a good time and good laughs with their charming and talented podiatry percussion performance. They are pretty easy on the eye as well!
The Tap Pack will be performing at Fringe in Perth till the 4 Feb.
If you enjoyed this article, please share it!
To find out about the hottest events around Perth, follow us at @PerthWalkabout