Details

Category: Arts & Culture
Published: Wednesday, 03 February 2016 13:31
Written by Nita Teoh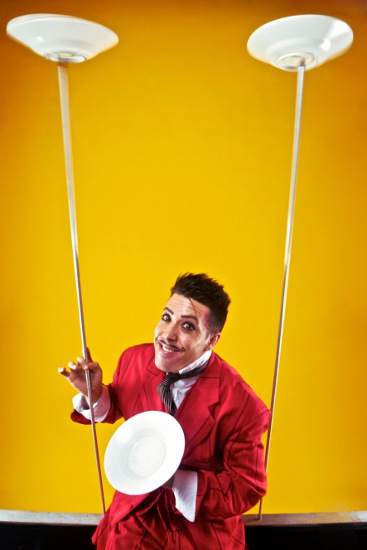 Are you looking for a funny man to tickle your family's funny bone at Fringe World Perth this year?
Then look no further and make a date to watch The Vaude-Villainous Mr Gorski at the Black Flamingo tent in the Pleasure Gardens location at James St, Northbridge.
Part cabaret act, part circus, part juggler, part slap stick comedian…….and full time evil villain, Mr Daniel Gorski is a man of many talents and a classic Vaudeville entertainer.
Vaudeville is a genre of variety theatre that became popular in the US and Canada in the late 19th Century and early 1900s, and which is brought to life Mr Gorski in fine fashion and aplomb.
As we waited with anticipation for Mr Gorski to grace us with his presence, I noted the simplicity of the stage props within the Black Flamingo tent, and wondered how Mr Gorski would entertain us.
Amongst the crowd were a mixture of little kids and big kids (like myself).
The kids were kept entertained as Mr Gorski went through his repertoire….. your kids may be familiar with Mr Gorski who plays the character Jango from the ABC show Hoopla Doopla.
Mr Gorski is a slick cabaret performer…a true professional that executes his Vaudeville art with immense skill and charm. He didn't miss a beat….well, he did miss a beat here and there, but it was intentional, as it was part of his act.
Without wanting to spoil the specifics of the performance - it's a suitable one to take the kids to, as well as the adults and big kids, as was evidenced by the screams of delights from the kids in the audience, and cheers from the adults. The exuberance of the young boy sitting behind us made me smile, and as the performance continued along, he became quite instructive and animated as he decided to give instructions to help Mr Gorski along the way.
And if you're not careful, you may also find yourself becoming part of the act or props!
Thanks Mr Gorski – we thoroughly enjoyed your performance. The time slipped away quickly as we were kept highly amused by your comedic acts, and before we knew it, the show was over.
The Vaude-Villainous Mr Gorski is an impressive one man act performance at Fringe World Perth 2016.
It is on at the The Pleasure Garden, James St, Northbridge until the 10th February.
If you enjoyed this article, please share it!

To find out about the latest events in Perth, follow us at @PerthWalkabout