Details

Category: Arts & Culture
Published: Friday, 21 February 2014 08:49
Written by Nita Teoh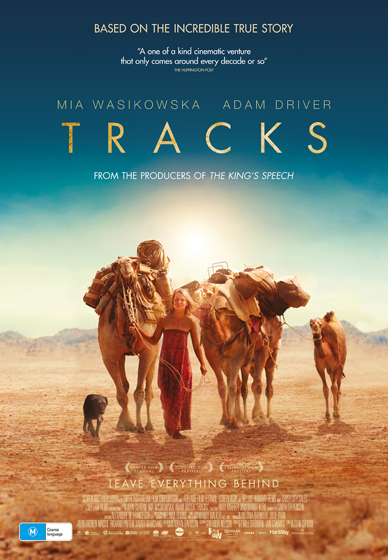 The movie "Tracks" will soon be showing at Luna Palace Cinemas in Leederville and Fremantle. Tracks is about one woman's arduous journey through the dessert. The idea starts out as a dream, and the movie follows Robyn Davidson as she makes her dream into a reality.
She is faced with adversity right from the beginning – naysayers who don't think that she can pull off her idea, not enough money to make her dream come true, and being female, young and at times naïve with dealing with the world.

None of this deters Robyn, and we watch her take her dream project a step at a time, battling the obstacles, hardship and delays that get in her way. After years of hard work and a setback or two, she eventually she sets off on her exciting journey in 1977.
With 3 camels, dog, and minimal belongings in tow she sets out into the wide world of the unknown desert – harsh, uncompromising and unforgiving. As her mentor Sallay states bluntly "You don't have to be unlucky to die out here...".
Some of the themes that came through for me in the movie:
Following your dream – Robyn is a determined young lady, who sets out to realise her dream. Her character strength shines strongly as she overcomes all manner of obstacles, from those closest to her who question her dream, to the people that she encounters along the way, and from the harsh Australian desert itself.
Companionship of her dog Diggity – as a child she was close to her Golden Labrador, and again in adulthood, it is Diggity her Black Labrador that she takes on her challenging journey across the dessert.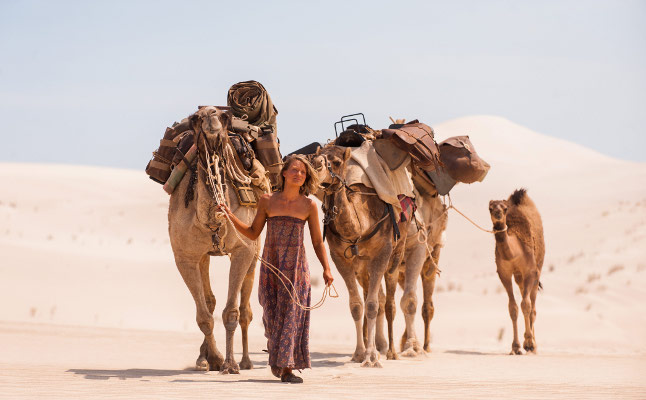 Sacred land in the desert parts of Australia – that areas in that vast expanse of bush are sacred land, respecting the culture of Aborigines, and being on land that is completely foreign compared to the city parts of our country, in which we have no knowledge or expertise in navigating.
Being alone – the journey puts her to the test – when obstacles and problems occur it sometimes appears that Robyn may pack it all in, but despite everything she manages to continue. She prefers to be alone, but on the other hand, she expresses the sentiment that she feels alone and lonely. During an intimate moment in the movie, the photographer Rick makes the comment "we are all alone" – regardless of situation – alone in the desert, or in the middle of civilisation.
Friendships – she makes heartfelt connections with individuals that she meets along her journey. The fleeting moments of connectedness with the hermit Glendle and the bush farmers are endearing – reflecting the kindness, gestures and positive side of human nature.
The book Tracks is available, and Luna is also having a special Q&A where Robyn Davison will be there in person to share reflections on her journey on the 23rd January 630pm at Luna Leederville.

All in all, this is a must see movie, if you enjoy a film that explores challenges, reflections on humanity, insight into character strength, resilience, what makes someone continue to overcome difficulties at all costs. The scenery is also very beautiful and takes you out into the vastness of outback Australia.
Tracks is a magnificent Australian movie that touches the heart on many levels. We are lucky to be able to share an insight into the journey of the resilient and amazing lady that is Robyn Davison.
It will be showing at Luna from the 6 March at Luna Leederville and Luna On SX in Fremantle.
If you enjoyed this article, please share it!



Nita Teoh pens her passion for Perth at Perth Walkabout. For more insider tips on Perth and surrounds, follow us @PerthWalkabout