Details

Category: Arts & Culture
Published: Saturday, 04 November 2017 10:29
Written by Nita Teoh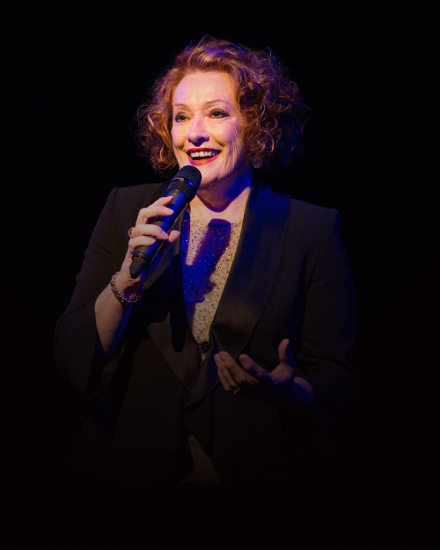 Geraldine Turner
Photo Credit: Kurt Sneddon
Little beknownst to some of us in Perth, tucked away downstairs at His Majesty's Theatre in the CBD is a cosy, cabaret style setting that makes for a perfect evening of entertainment.
On this particular Friday evening, we headed out on a balmy summer's night to watch Turner's Turn by Geraldine Turner at Downstairs at The Maj.
Geraldine Turner is a name that is synonymous with Australian musical theatre – her career spans over four decades, with stage performances in many musicals including Chicago, Wicked, Oliver, Guys and Dolls, and Into the Woods. She has also featured prominently in many plays, and television shows and series.
A special warm welcome to Geraldine as she performs cabaret in Perth for the very first time!
In Turner's Turn, Geraldine shared insights into her interesting and colourful career, through dialogue, stories and song. She sang her way most magnificently through the night accompanied on piano by the talented Brad Miller.
Her cheeky banterings with the audience created much laughter and good times were had by all who were present for her special performance.
Particularly poignant were the beautiful songs of love that she sung throughout the night - on matters that touch the heart, of joy and sadness.
Bitey, funny, and intimate in turn – Geraldine Turner brings to the fore her dynamism and amazing stage presence as "the lady" of Australian musical theatre.
The cabaret style format at Downstairs at The Maj lends itself to a very enjoyable evening as friends gathered together in a relaxed, informal setting - enjoying themselves over a meal and a drink or two as they were treated to Geraldine's bravo performance.
There's no doubt that Geraldine had many more interesting anecdotes to share of the twists and turns of her career, but after over two hours on stage she finally belted out the final number to hearty applause from the appreciative audience, taking a well deserved bow along with her able accomplice Brad Miller.
Geraldine Turner continues her brilliant performance of Turner's Turn with special appearances in Mandurah and Esperance.
If you enjoyed this article, please share it!
To find out about the hottest events around Perth, follow us at @PerthWalkabout