Details

Category: Arts & Culture
Published: Monday, 19 January 2015 10:50
Written by Greg Letts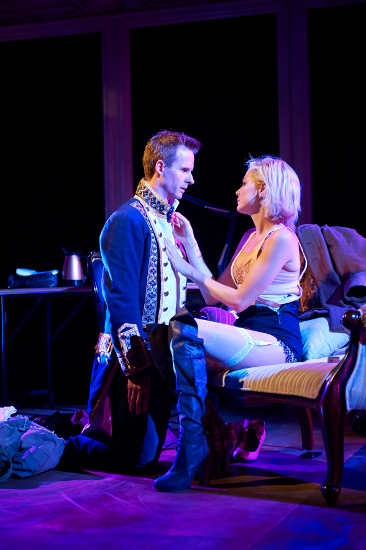 Adam Booth and Felicity McKay in Venus in Fur
Photo Credit: Gary Marsh Photograpy and Black Swan State Theatre Company
A quick scan of the synopsis for Venus in Fur will give you the gist of what is going to happen in David Ives' recent play being staged by Black Swan State Theatre Company (the advertising poster might also give you an idea or two!) But as with many things in life, it is the journey, rather than the final destination, that is most important. Thanks to the efforts of the cast and crew, the Venus in Fur trip is well worth taking.
Ives' 90 minute masterpiece is filled to the brim with imagery, passion, conflict, and a healthy dose of sexual tension. It flows like a rapid stream over a number of concepts, and I suspect that multiple viewings would allow many new themes to be noticed and explored. Amid the free flow of ideas, one particular theme that caught my attention was the balance of power in relationships, with questions like:
If you voluntarily relinquish your power to another person and allow them to dominate you, are you in fact exerting your own power over them by forcing them to take control of your actions?


If you are able to stop being somebody's slave whenever you like, then who really holds the reins of power?


Can true power in a relationship only be taken, and not conceded?


In any relationship between consenting adults, aren't the actions and choices made by both parties affecting the other? Is there really such a thing as a one way relationship?


Bear in mind that these were just a few musings that were sparked in my mind as I watched Venus in Fur unfold. There's not a lot of time to sit and mull them over, for the play is continually moving along, posing new issues and questions.
Ives uses the familiar play within a play technique to good effect, and takes it to another level of dramatic intensity as the characters move from reading their lines, to acting their parts, to becoming the parts, and finally transcending the whole structure of the play to become the essence of Aphrodite and her willing love slave. While this is occurring, the power dynamics between the two characters is also changing, with Vanda increasingly becoming the director of events and Thomas the helpless pawn.
This complex shift of power and roles at both the character level and the play within a play level is handled with precision and poise by the two leads, and is quite an accomplishment, especially in the last 30 minutes of the play as the pace picks up to a frenetic level. But Adam Booth (as Thomas Novachek / Severin Von Kushemski) and Felicity McKay (as Vanda Jordan / Vanda Von Dunayev) never lose their grip on where their characters are at any moment in time in this whirling maelstrom of upheaval.
Venus in Fur is more than just an entertaining play, although it certainly makes the grade as a piece of drama that you could enjoy based solely on the performances of the two leads. But it also exposes the primal urges lurking beneath our civilised exteriors, whilst providing a number of intriguing intellectual questions about power in relationships.
Come for the sex, stay for the conversation.

Venus in Fur by Black Swan State Theatre Company is currently showing as part of Perth's Fringe World Festival at Studio Underground, State Theatre Centre of WA until 8 February.

If you enjoyed this article, please share it!
Greg Letts is a ppc marketer, ping pong player, guide dog puppy raiser by day, and an entertainment reviewer by night. To get the insider's perspective on upcoming events at Perth, follow us @PerthWalkabout