Details

Category: Arts & Culture
Published: Saturday, 31 August 2013 08:43
Written by Nita Teoh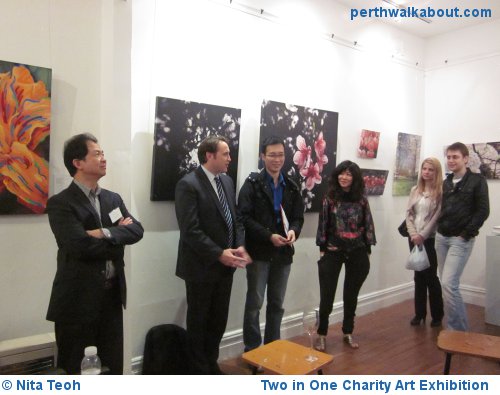 The opening night for the Two in One Charity Art Exhibition kicked off yesterday evening at the Victoria Park Centre for the Arts, showcasing art work by Su Mei Chew and Vincent Lam. All proceeds from the art exhibition go towards helping support disadvantaged children and youth, and the funds raised will go towards the charity organisations Compassion Australia, Children's Dream and Youth Focus.
The artists shared their perspectives on their inspiration for their art work with those attending the opening night:
Chew said: "I use painting to make keen observations of life and its phenomena. My works mainly investigates the multi-layered reality of our manifested world and the prejudices inherent in our own perspectives. My current works feature boldly coloured flora and fauna using that as a visual metaphor to sense the invisible and esoteric phenomena that underpin our world, my other works intuits the energetic imprint of the subject and visually brings it forth.
Currently I am employing my art to raise funds for building schools in Developing Countries so every child has a chance not only to make it in this world but to make sense of it. For me, education is a powerful way to address all the various geo-political issues we have in the world around us today."
Lam on his photographic work: "Photography is my chosen media to express my feelings, this Planet and our surrounding. We are living in a wonderful planet, however we often miss out things that are close to us. We cannot turn back the clock. For this reason I chose to use my cameras to capture these wonderful moments; something simple but powerful. This selection of art works brings me peace and joy. Whenever I look at these art works, I can turn away and carry on with my busy life with a smile. I sincerely hope you will enjoy this exhibition and support our chosen charities."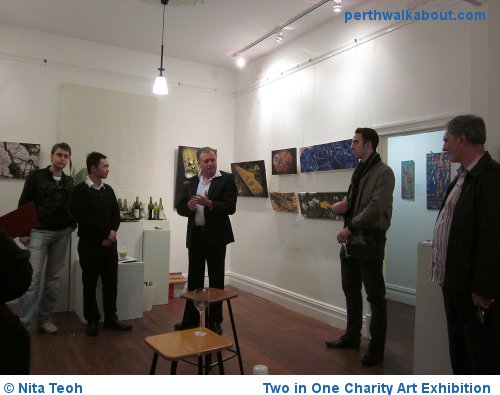 Flamboyant auctioneer Richard Boyd kicked off the opening night to auction off key masterpieces in the artists' collection. A fun and inspiring experience was had by all who attended the opening night of the Two in One Art Exhibition.
Of the charities that funds are being raised for Compassion Australia deals with alleviating child poverty; Youth Focus provides counseling services for youth from the age of 12 who may be experiencing suicidal thoughts, depression or self harming behavior; and Children's Dream supports programs to build schools in developing countries.
The art exhibition will be open to the public on Monday 2 September and run through till to Wednesday 4 September, from 10am to 4pm.
If you are a lover of art, hop along to the Victoria Park Centre for the Arts to appreciate some beautiful compositions and to support some worthwhile causes.
Event Details
Event: Two in One Art Exhibition

Artists: Su Mei Chew and Vincent Lam

Venue:
Victoria Park Centre for the Arts
2 Kent Street, East Victoria Park
Phone: 9470 5520
Dates: Monday 2 September to Wednesday 4 September, 2013, 10am to 4pm

Event Sponsors:

Rosily Vineyard Margaret River
Digital Art Work


If you enjoyed this article, please share it!