Details

Category: Arts & Culture
Published: Saturday, 17 January 2015 08:01
Written by Nita Teoh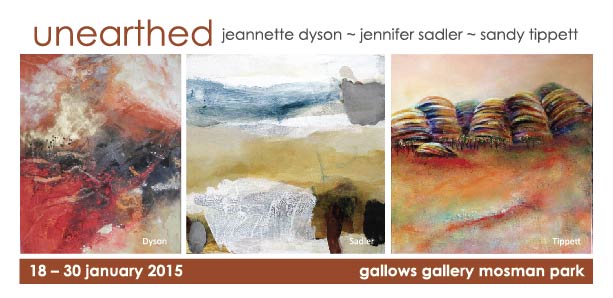 The much awaited "Unearthed Exhibition" will debut at Gallows Gallery in Mosman Park this Sunday 19 January 2015. Deeply inspired by nature and the landscapes of Australia, the trio of well known, WA artists Jeannette Dyson, Jennifer Sadler and Sandy Tippett will display their artworks to the Perth community.

The artists have exhibited across Australia and overseas, and the Unearthed Exhibition is the second time that they have come together to present their unique paintings that showcase our stunning Western Australian landscapes.
Jeannette Dyson was a resident of the Kimberley for a decade, painting up at the Red Rock Art Gallery and painted in a collaborative studio environment alongside with indigenous artists. Her unique style has been much influenced by the landscapes of the Kimberley.
She said,
"In my paintings I seek to portray and celebrate the uniqueness of the Australian North, the spatial isolation and texture of the landscape in a contemporary interpretation. - I am acutely aware of all the influences that have formed my own identity - specifically that of the Kimberley."

Jennifer Sadler is a Western Australian artist whose unique work is characterised by her use of a vibrant palette and her connection to the terrestrial landscape. Her work continues to evolve as it delves further into abstraction.
"My work continues a passionate response to the environment in which I live. I'm drawn to ephemeral elements such as shifting light, shadows, and reflections. I don't try to depict the landscape as I see it, but as it feels. Playing with nuances of colour and mark making I am able to walk into the memory of those landscape encounters."


The third and final artist to showcase her works in Sandy Tippett.
Sandy has drawn inspiration from spectacular landscapes, ranging from her early childhood years in the East African savannah to the arid, spatial landscape of West Australia where she currently resides. These environments contributed greatly towards her mixed media paintings which often incorporate ochres, oxides and sand on the textural front.
"My paintings are the result of many 4WD camping trips that my husband and I have taken exploring this spectacular landscape; capturing the beauty, ruggedness and heat of the north with the true colour of the Pindan red to the iconic Boab trees of the Kimberley can be a challenge. The amazing light that is cast over this landscape throughout the day from sunrise to sunset holds continuous inspiration for me enticing me to create representation of its rugged prehistoric beauty."


The Unearthed Exhibition will kick off its opening at 330pm on Sunday 18 January 2015 at the Gallows Gallery in Mosman Park. Enjoy the afternoon to meet the artists and to enjoy light refreshments with fine wine.
Event Details
Event: Unearthed Exhibition

Dates: 330pm Sunday 18 January 2015 to Thursday 29 January 2015

Location: Gallows Gallery, 53 Glyde St, Mosman Park.

All paintings are for sale.

Exhibition Hours:

Tuesday to Friday 10am to 430pm
Saturday and Sunday 12 noon to 5pm
Enquiries: Sandy Tippett 0403 265 739

Email: This email address is being protected from spambots. You need JavaScript enabled to view it.

If you enjoyed this article, please share it!
To get the insider's perspective on upcoming events at Perth, follow us @PerthWalkabout