Details

Category: Arts & Culture
Published: Wednesday, 14 February 2018 13:06
Written by Greg Letts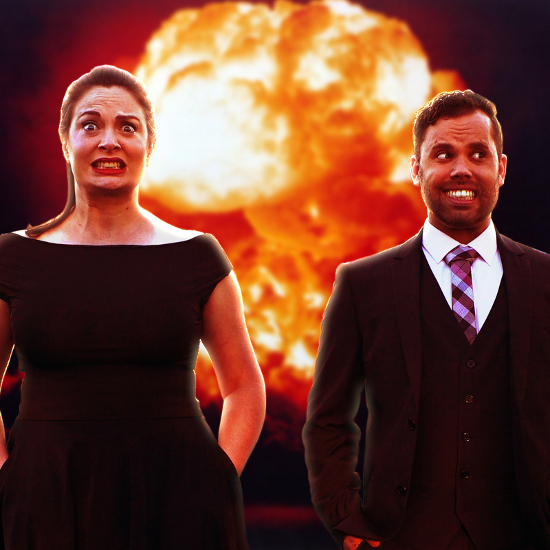 Erin Hutchinson & Tyler Jacob Jones in What doesn't kill you [blah blah] Stronger, Fringe World Perth
Photo Credit: Holland St Productions


When attending Fringe World Perth performances, the alternative and offbeat is to be expected, but Tyler Jacob Jones and Erin Hutchinson of Holland St Productions take it to a whole new level with their cabaret What Doesn't Kill You [blah blah] Stronger, which sets some of the strangest survival tales from around the world to song.
When the opening number is Army of Cats, you know you are in for a weird and wonderful ride. The audience certainly lapped(!) it up, although the vision I have of Erin in a cat mask sensuously rubbing up against Tyler's character is going to require some serious therapy!
The show continued with amusing and disgusting survival tips interwoven throughout the shocking survival stories that the duo had managed to dig up. From drinking water with your butt (which makes for a surprisingly catchy song, I was humming that tune all night!) to being hit with meteorites (pro tip – don't get hit), it's amazing to hear what people have gone through and managed to come out alive.
And although the stories are suitably bizarre and interesting, it is the songs and the way that Tyler and Erin perform them that really makes the show. The pair are seasoned comedy practitioners who can bounce between physical or literary humour at will. Backed by some very catchy tunes in a variety of styles, and some wicked lyrics to boot, Tyler and Erin romp through 50 minutes of fine cabaret. Moreover, they make a great musical team – they have wonderful voices which combine well together – I'd love to hear a straight set of musical numbers from them both.
I've seen a number of Holland St Productions shows over the last few years, and What Doesn't Kill You [blah blah] Stronger continues their fine tradition of productions that are a little bit different, but always built on a rock-solid foundation of highly polished performances. Great fun and highly recommended.
What Doesn't Kill You [blah blah] Stronger is on at Downstairs at the Maj until 17 February as part of Fringe World.
If you enjoyed this article, please share it!
To find out about the hottest events around Perth, follow us at @PerthWalkabout