Details

Category: Arts & Culture
Published: Sunday, 10 May 2015 05:15
Written by Greg Letts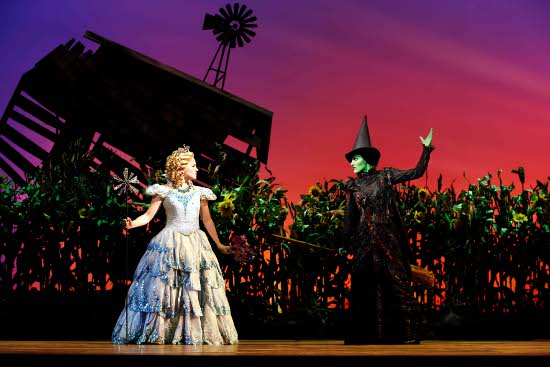 Wicked 2015, Perth
Photo Credit: Jeff Busby

Wicked – The Untold Story of the Witches of Oz - has been holding audiences spellbound since 2003, and the latest production to hit Perth is no exception, with an on form cast and crew having a triumphant opening night on Thursday 7 May, receiving a well deserved standing ovation from the enthusiastic audience.
Knowing only that the play revolved around the backstory of the Wicked Witch of the West and Glinda the Good, I half expected a modern day revisionist production where evil was made to look cool and good made to look dorky. As it turned out, I was way off the mark. I'll avoid any spoilers for those of you who have yet to go see the play, but suffice to say that the storyline has been carefully and lovingly crafted to be true to the spirit of the Wizard of Oz, while giving us an intriguing explanation of how events came to be. Major kudos to the writers in taking such a cultural icon and updating it to feel fresh and modern.
With the focus on the two witches in Glinda the Good and Elphaba, Wicked Witch of the West, much depends on having two leads who can make the magic happen. Fortunately Suzie Mathers (Glinda) and Jemma Rix (Elphaba) are terrific in their roles, making every scene where they are together a delight to watch. Glinda's boisterous goodness contrasts with Elphaba's world weary down to earthness to bring pure comedy gold from each line and action. Not to mention that both leads have amazingly powerful voices that soar and project over the theatre with ease.
The rest of the cast of Wicked give solid supporting performances, complementing without overshadowing our two heroines. I'll give a special shout out to Maggie Kirkpatrick who gives a towering performance as Madame Morrible, quickly becoming a firm favourite of mine (and many others in the audience, I'm sure!).
In any production such as Wicked, the music is an integral part of the show's soul. And the musical numbers in Wicked are real showstoppers – with Defying Gravity a pulse pounding end to the first half of the show, and I'm Not that Girl and For Good bringing tears to the eyes of many in the audience – I must admit to a certain mistiness myself.
Finally, a quick congratulations to the set designers – who managed to capture the feel of all the different wonders of Oz with just a few seamless shifts of scenery, and whose work was reinforced by the gorgeous costuming.
Wicked is a wonderful take on the untold story of the Witches of Oz, with universal age appeal – plenty for adults to enjoy while younger viewers still have much to keep them entertained – as I can verify from listening to the kids in the audience enjoying themselves. It's not a saccharine sweet nor a depressingly gritty production, but instead a thoroughly satisfying modern take on the well loved legend of Oz. One for all the family and anybody with (or without!) a heart.
If you enjoyed this article, please share it!
Greg Letts is a table tennis coach and guide dog puppy raiser by day, and an entertainment reviewer by night.

This month on Perth Walkabout - we'd love you to support "Team Harry" on our HBF Run for a Reason - Jog 4 a Dog journey to raise funds for the next guide dog puppy for Guide Dogs WA.
To get the insider's perspective on upcoming events at Perth, follow us @PerthWalkabout