Details

Category: Arts & Culture
Published: Tuesday, 17 February 2015 12:24
Written by Nita Teoh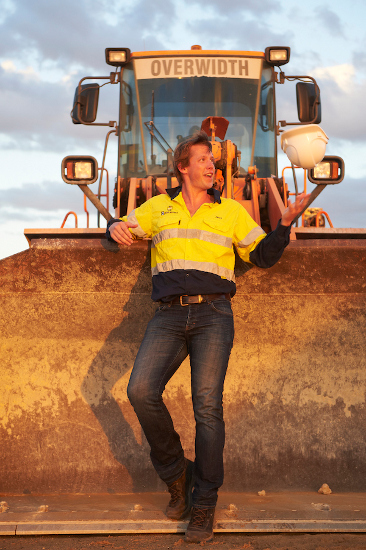 On a Monday evening, we arrived at the DeLuxe tent in the Fringe World Perth Pleasure Gardens to watch stand up comedian Xavier Toby in his latest show Every Cloud has a Silver Mining.
We stepped into the air conditioned tent (how spoilt is that?) and sat down to watch a steady stream of punters stepping in till the tent could hold no more. Full house on the opening night – Xavier has obviously built up a fan base in Perth.
His show is based on his recent book Mining My Own Business (published through UWA Publishing), which is about his adventures in the outback working FIFO on a mining site. It's a receptive crowd in the cosy, intimate setting of the DeLuxe, and Xavier quickly hits his stride as he unleashes a tirade of stories about life out on the mining sites.
He swears that they are all true stories.
Some of them are unbelievable, some hilarious, some sad, some tragic, and some down right stupid (good stories about people doing stupid things!), showing a different side about life on a mining site, compared to the airbrushed PR propaganda pushed out by these corporate giants.
What I enjoyed about Xavier is his ability to impart his humour in an uncut, unpretentious manner…..just right this is what happened, no bull. He doesn't mind making fun of himself, and he has the ability to look at the mining world through his own lens, and share with us what it is like to be a newcomer to the mining culture.
The audience loved the show and there were smiles and laughs all round during the hour that whizzed by very quickly.

It was a sell out night for his opening night of Every Cloud has a Silver Mining. If you are quick you can still catch Xavier live at Perth Fringe World, and if you're lucky you may be still be able to purchase his Mining My Own Business book after the show and have it signed personally by Xavier.
Stand up comedian…..Xavier (Matty) Toby – thanks for FIFO'ing into Perth!
Catch Xavier soon – he will perform his show nightly till 22 February as part of Fringe World Perth.

To get tickets for the show check out the Fringe World website.

If you enjoyed this article, please share it!