Details

Category: Backpackers
Published: Friday, 06 April 2012 10:32
Written by Emily Cordz

When I told my friend I was taking a gap year in Australia, her first question was, "Are you going to be WWOOFing?" To most people that question would make no sense, but I had been doing research on possible gap year experiences for almost a year and I knew exactly what she was talking about. I told her I didn't plan to, but it looked like a cool concept. I ended up inadvertently doing a similar program while living in Perth and it was a wonderful experience. But I'm getting ahead of myself.
Many people have never heard of WWOOF or have but don't quite know what it is all about. WWOOF started in England in 1972 and stands for Willing Workers on Organic Farms. The idea was to pay for their room and board by working on an organic farm. This allowed the WWOOFers to learn about organic farming practices and give the farmers an extra set of hands and fostered the growth of cultural and environmental awareness. The idea of developing a sustainable and aware global community has grown to a worldwide organization with branches in around 50 countries. WWOOFing in Australia began in 1981 and has steadily grown over the years. They now connect over 2,300 hosts around the country with volunteers, commonly known as WWOOFers.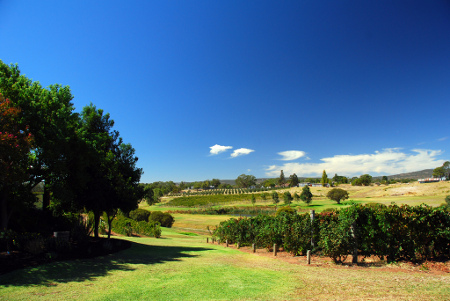 Swan Valley
Photo Credit: Flickr/Robert Young


There are numerous opportunities to be a WWOOFer in Australia, especially here in Western Australia. It's not just plants you can work with. There are opportunities to work with animals, too. While most locations are more rural, there are a growing number of places located in the hills around Perth or just north of Perth in the Swan Valley. Some of the many places near(ish) Perth that have hosted WWOOFers in the past include: Forge Farm, a horse riding school located in Chidlow; Harris Organic Wines in the Swan Valley; Loveland for Wildlife Inc, a wildlife rehabilitation centre in Jurien Bay; Margaret River Free Range Eggs; Kookaburra Creek Yoga Centre; and Drumlane Organic Farm, the only supplier for Fibber McGee's Irish Pub & Steakhouse in Leederville.
To find WWOOF hosts you will want to purchase a WWOOF membership, which is good for one year and includes a book which lists all the current WWOOF hosts contact information. The cost of membership and book in Australia is currently $65 and can be purchases at a number of retailers around the country or through your hosts if you find a WWOOFing opportunity before joining their network (some places advertise that they are WWOOF hosts on their webpage).
The minimum length of a stay is two days, but many hosts prefer of you can stay longer as it saves them from constantly having to train new people and allows you to really get to know the people and the and the work. On average the expected work load is four to six hours a day. Talking to other WWOOFers can help give you the inside scoop about various locations and hosts. Many people are nervous about becoming a WWOOFer in Australia for the first time. They are worried the people won't be nice or they'll be terrible at their tasks. It can be intimidating to live and work with strangers as you adjust to a potentially drastic lifestyle change, but the mass majority of the experiences range from good to amazing.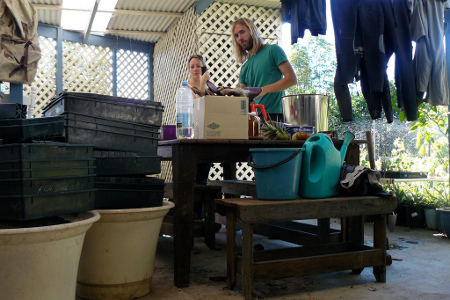 Wwoofers
Photo Credit: Flickr/Reuben Whitehouse


I stumbled upon an opportunity similar to WWOOFing while I was living in Perth. The people I was renting had a prior Help Exchange agreement (similar to WWOOFing but can be for farm labour, remodelling help, housework, etc.) with a girl who was arriving in January. Instead of having to look for a new place to rent, they suggested I meet with their friends who were interested in getting into Help Exchange, but were nervous about the types of people they would have living with them (see, the uncertainty works both ways).
We met and decided to go ahead with the arrangement. In exchange for room and board I provided an agreed upon amount of help around the property, which involved clearing away the dead brush that they cut out the season before and piling it down at the bottom of the hill for them to burn when it was wetter. I was also a little hesitant to do the exchange initially, but soon was glad I did. It was a wonderful way to save some money and experience a more local perspective of Perth. Given the opportunity, I'd do it again with no second thoughts.
WWOOFing in Australia will give you a chance to experience the country in a way that you will remember for a long time. It introduces you to what is potentially a very different style of living and teaches you about organic farming and new ways to view the world in general. If you're tired of the same old travel experience full of bar hopping and tourist traps, then you should consider WWOOF, or a similar program, to satisfy your wanderlust and broaden your horizons.

For more Related Articles, please scroll below to the bottom of this page.