Details

Category: Day Trips
Published: Friday, 02 September 2011 14:28
Written by Nita Teoh

Busselton is a beautiful seaside town located approximately 220 kilometres from Perth, and is a fantastic destination for a get away down south.
Getting to Busselton is a fairly straight forward route – an easy three hour drive starting off along the Kwinana Highway, and on to the new Bunbury Bypass which has shaved a few more minutes off the journey.
Your first port of call when arriving in Busselton should be the Visitor Centre at 38 Peel Terrace. You can't miss it – it's well signposted and located in a modern building with ample parking alongside the main road leading into town.
Here are some highlights of Busselton to check out on your next visit:
Busselton Jetty
Busselton's main claim to fame is its historic jetty which was first constructed in 1853, and which is the longest wooden jetty in the southern hemisphere. It's a fun walk up the jetty, and it does seem to stretch on for miles on end - being a 1.8 kilometre walk from start to finish, I guess that's not surprising! Taking a stroll along the jetty is a nice and relaxing way to get your dose of exercise for the day, and to catch the sea breeze.
As you walk along the jetty, you will see people enjoying the site, in all manner of recreational pursuits. People taking an evening stroll, people sitting along the jetty taking in some fresh sea breeze, or even trying their hand at snaring a fish or two for dinner.
If you're feeling a touch lazy, you can catch the jetty train to the underwater observatory. The train is now and up running again post major renovations. Earlier this year, the Busselton Jetty underwent an extensive renovation project costing $27 million to replace its worn out planks and spruce things up. It's great to see that the jetty has now resumed operations and regained its popularity as a top attraction in Western Australia.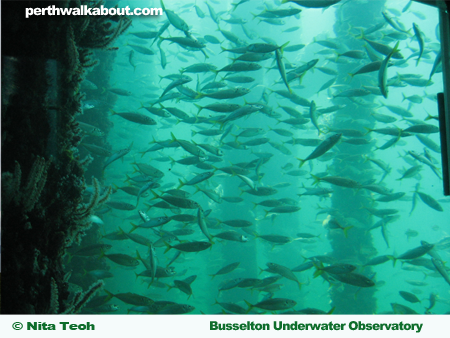 Busselton Underwater Observatory
As well as walking the jetty, a visit to the Busselton Underwater Observatory located at the end is also a must. You can view the schools of fish, coral, and other sea creatures up close and personal at different levels of the observatory, which rocks gently from side to side as you spend time within its cleverly designed structure.
Our tour of the aquarium was a most enjoyable couple of hours. The tour guide was informative and friendly, and most of the guides are experienced deep sea divers who enjoy sharing stories of their underwater adventures in the local region. One of the perks of the job as a tour guide is a spot of diving in the waters of Geographe Bay. However, alongside the fun aspects of the job is the regular hard work of keeping the viewing platforms spotlessly clean for visitors.
Busselton Beach
Families looking for a safe place to take their kids for a swim should head to Busselton Beach, a sheltered spot for swimming close by the Busselton Jetty. It is easy to while away the day playing and enjoying the surf and sun, and if you are feeling peckish, there are plenty of eateries along the beach side to grab a snack or meal.
Cafes and Restaurants
The two main locations for cafes and restaurants are by the beach side, and in the town centre. If your are planning to self cater, the two main supermarkets are Woolworths or Coles for your groceries. There are some lovely cafes dotted throughout the township for a dose of caffeine, a big brekkie or a quick bite.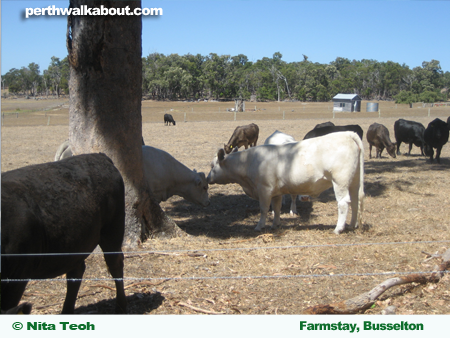 Farm Stay
There are accommodation options to suit all tastes in the township of Busselton, ranging from self catering holiday apartments, to youth hostels for backpackers, motels and caravan parks. Another family friendly option to consider is to enjoy a farm stay and make your base on the outskirts of Busselton.
Geographe Bay Region
Busselton is part of the Geographe Bay region and you can easily visit towns further south such as Dunsborough, Yallingup or Margaret River if your itinerary allows. If you are heading to Yallingup, be sure to check out the caves located nearby. The Ngilgi Caves offer interesting tours to view the stalagtites, stalagmites and other amazing formations. It also offers caving tours of the crawling sort for the adventurous at heart . I can personally vouch that you will certainly find yourself in a tight spot or two during your caving adventure!
Busselton provides an easy weekend getaway down south to recharge your batteries for families and all ages. Make sure to check out the new/old Busselton Jetty and the Busselton Underwater Observatory. Don't be a slacker and make sure you walk the whole length of the jetty!

What is your favourite attraction in Busselton?

Add your comments below.