Details

Category: Essentials
Published: Wednesday, 27 June 2012 10:21
Written by Nita Teoh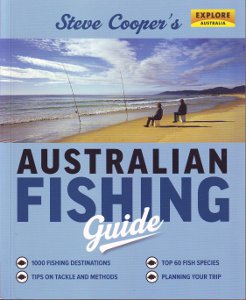 Note: A special thanks to Noble Words for providing Perth Walkabout with a copy of the Australian Fishing Guide for review.


Almost everybody has tried their hand at fishing one time or another, and many people find themselves hooked(!) on the hobby. In a recent guest post, we heard from fishing enthusiast Marian Aunes from Marinews on her favourite fishing destinations in Perth.

If you have aspirations to become a serious angler, then Explorer Australia's Australian Fishing Guide by Steve Cooper is a great reference book. I am sure that many of our visitors to Australia will be interested in trying their hand at fishing and enjoy Australia's Great Outdoors at the same time.

The Australian Fishing Guide provides a comprehensive resource on fishing in Australia – from the many types of fishing available in Oz to where to go to find the best fish. It covers over 1000 destinations across Australia where you can go to drop a line and drink in the scenery.

Guide book author Steve Cooper is synonymous with fishing. He is a columnist for Australian newspapers such as the Herald Sun and The Weekly Times, and has written more than 20 books.

Fishing is a fun pastime for many recreational enthusiasts as well as a popular sport in Australia. For the more serious, there are more competitions and tournaments than you can poke a stick at, some of which even attract competitors from overseas!

Steve covers the main types of fishing in Australia - from beach and river fishing, lake and rock fishing, to charter boats and bay fishing for saltwater anglers.

The guide is filled with useful tips on best equipment to use for particular types of fishing, and how to rig up your lure with bait to provide the best chance of landing a catch. There's also a special section on wet and dry flies complete with photos for the fly fishing enthusiast.

We are spoilt for choice for fishing spots in Australia with our vast natural resources. And it's not uncommon to chat to a friend who has taken a week off to go fishing to their favourite spot out on the coastline. For those of you who like to fish away from home, the Guide also details some useful information about accommodation and places to see near your chosen destination.

For visitors to Perth, if you're a fishing enthusiast, your best bet is to start off your expedition in Perth. If time permits, then a drive down south to Albany would make for a pleasant trip. Up north, Steve recommends Quobba near Carnarvon as a good place for anglers to visit. Destinations around these parts are well known for their land based game fishing. Heading further north up the coast, you've got Exmouth and Broome which are popular sailfish grounds.

Steve touches on the topic of conservation and makes mention of areas which are under less pressure of overfishing. There are some regulations in place to control over fishing in our local waters, and there is a separate chapter in the Guide with tips on how to comply with the regulations. Note that the regulations vary from State to State and a breach could result in a fine, and don't forget to check whether you need to get a fishing license. So do as Steve suggests and be sure to read the fine print of the Regulations.

Have fun fishing in Oz - keep your safety in mind and enjoy your time outdoors soaking up our spectacular Australian scenery. Whether you are an experienced angler or a first time fisherman, Steve Cooper's Australian Fishing Guide is a comprehensive book on Australian fishing and a great resource to turn to for hints, tips and the best locations.

For More Related Articles, please scroll to the bottom of this article.